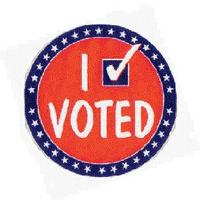 To my fellow progressives.
It's show time! One way you can help is by writing convincingly why we're putting forward the better platform. Whether it be for a candidate or an issue - we need you now to set your fingers a tapping and spread the word. If you are into door-knocking, fantastic!
If you're a writer - let's move!
And, thanks to those putting out great stuff - like TA Barnhart's recent piece on why not voting is tantamount to treason.
Let's do what we can in any way. The process takes a bit longer here vs. the instantaneous voting day elsewhere - so we need to keep up the energy! Tell us what inspires you to fight?
Thanks!
And onward!
ed. update 10:24 - title change thanks to great feedback from Lani. And a link to http://www.apaonline.org/publications/texts/nonsexist.aspx
"Here is the link to the American Philosophical Association's "Guidelines for Non-Sexist Use of Language."   In philosophy classes, students are required (as are most all students any more) to use gender neutral language.  This is the resource I give them to help them see all the possibilities.   As for stirring language, how about "to the pages, people!"   or "take hold your writing instruments!" or .... "