As Evan Manvel noted yesterday, much of the commentary from folks disappointed in the governor's race has been of the "Oh no! Multnomah County stole it again!" variety. Those folks often then go on to disapprovingly note that Multnomah County is just one little tiny corner of the state - and that so much of the state voted for Chris Dudley over John Kitzhaber.
Nevermind that that's mathematical nonsense on its face. John Kitzhaber got more votes. Ergo, more people supported him. There's nothing magical about that.
But it's also important to remember - duh - that our democracy is based on the "one person, one vote" principle. More than fifty years ago, for example, the Supreme Court struck down county-based districting for State Senate seats.
In short, people vote. Acreage doesn't. And every Oregonian gets just as much of a vote as every other - no matter where they live.
(Frankly, the fact that we even know the county-by-county numbers is an odd accident of history and bureaucracy - there's no philosophical, ethical, or constitutional reason that it should be the county clerks that count the votes. It'd be just as easily done these days by the state, but I digress.)
In elections past, I've often produced population-adjusted maps ("cartograms") that visually make the point -- adjusting the size of each county based on its population. And I've done so again. The regular geographic map looks like a sea of red; while the population-adjusted map makes the 50/50 nature of this race much more obvious.
Without further ado, the two maps: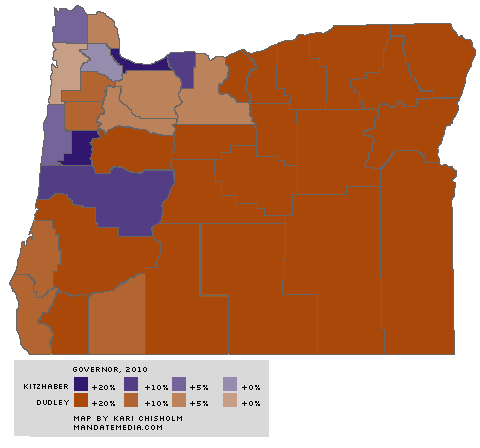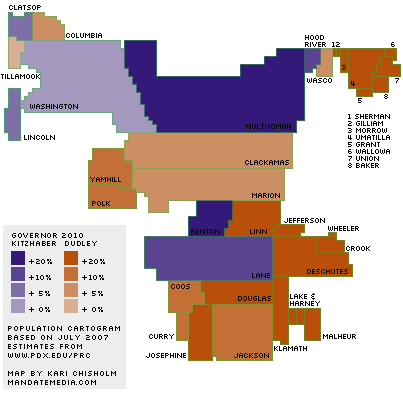 I should note these maps still rely on the traditional blue/red coloring - albeit gradated somewhat. I like Evan's suggestion every county should be a shade of purple - a little bluish, a little reddish - to honor the Multnomah Republicans and Malheur Democrats. That said, I haven't yet figured out a way to do that and still produce a map that's meaningful to readers.