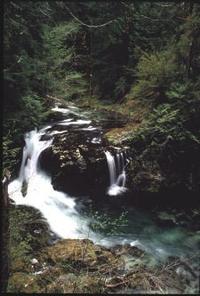 Politicians have spent the better part of two decades debating effective management of two-plus million acres of public forest land in Western Oregon.
These lands -- commonly referred to as O&C lands after the land-grant program for the Oregon & California Railroad Co. -- are home to old growth forests, rare plants, wild salmon populations and clean drinking water resources. They're also outstanding places to explore this summer -- with a ton of recreational opportunities if you're looking to get out there and enjoy what we love about our state.
A new poll, conducted by Lisa Grove of Anzalone Liszt Grove and Public Opinion Strategies, points to strong public support for to an approach that would not only protect clean water, wildlife and ancient forests, but also generate substantial revenue for local governments.
The poll shows that a strong majority of likely voters -- both statewide and in affected rural counties -- rank as their top priority safeguarding old growth forests, bodies of water, and the wildlife that live on O&C lands. Fifty-nine percent place conservation above all other priorities, including ensuring the future of logging jobs and stabilizing funding for local governments.
Perhaps that's why, by a nearly two-to-one margin, Oregonians favor a plan to conserve important wildlife habitat by limiting areas available to logging to just 20-percent of the landscape. The plan, which would generate $40 million a year for counties, substantially outperforms a plan that allows timber companies to log on about 60-percent of the area, providing much fewer land and water protections. In the four counties more dependent on timber revenue from the O&C lands –- Douglas, Lane, Josephine and Jackson –- a majority prefers the approach that ensures better protection of wildlife. Dig into the details at Pew.
Oregon voters, both in rural areas and throughout the state, want strong protections for our natural heritage. Let's hope our elected leaders seize the opportunity for a path forward that reflects the values and priorities of Oregonians throughout our state.