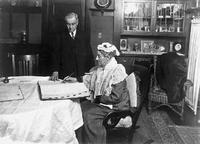 Invited to submit names for the new Willamette River pedestrian/bike/light bridge, 264 people opted for either "bridge" or "the bridge". I have no idea what to make of that.
339 people nominated "Kirk Reeves" in one form or another (I counted "The Trumpet Bridge" in the tally). Kirk was a bright part of the downtown Portland landscape for many years, and a Facebook page garnered over 1,700 likes. It was a sweet gesture and speaks to the affection Portlanders can have for one another. Despite being the top vote-getter, however, "Kirk Reeves" was never a serious candidate for the bridge's name; not to be uncaring, but he is not a person of historical significance.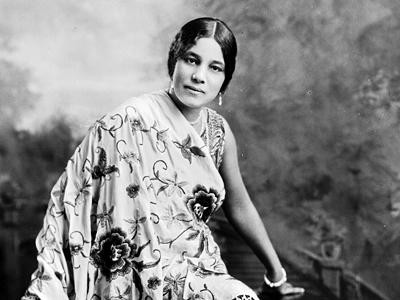 Beatrice Morrow Cannady, on the other hand, is, but she received only 27 votes. Few people know of her work in the early 20th Century; I didn't until a friend posted that he had nominated her. Then I did some research, and I realize she is representative of the many women and people of color whose lives and histories have been forgotten, marginalized, erased. She eventually gave up on Portland and Oregon, and I can't say I blame her, given what she had probably gone through in the 20s when the Klan was one of the major, if not the major, forces in the state.
Sarah Palin made the list. So did James DePriest, Ursula le Guin, Mt Hood, Matt Groening, Nohad & Dirce Toulan, Officer Rob Libke, Sacajawea, Portland(ia), "Rose" in many forms, William Stafford (bravo!), and Darcelle. Many great Oregonians, past and present, got anywhere from one to several dozen votes, but few of these represent the history and cultural and regional significance that the naming committee was looking for.
Abigail Scott Duniway, of course, does, which is why her name is the only person to be among the four finalists. She received 259 nominations, fewer than Kirk Reeves and even "bridge", but there is no question of her elevated place in Oregon history. She is not the only woman from our past who deserves to be remembered and honored, but, once you learn her story, it's hard to think of anyone more deserving. Her life story tends to be abbreviated to "won the vote for Oregon women". This does the scope of her life a great injustice.
Jenny, as she was known to family and friends, was the consumate Oregon pioneer: Oregon Trail, homesteader, school teacher, business owner, writer and publisher, and progressive activist. She did not favor suffrage for women until, while running a store in Albany, she began to learn of the suffering of women who had not had her good fortune in finding a husband of quality. In fact, it was her husband Ben who planted in Jenny's mind the idea that if women had the vote, they would have the means to redress the awful wrongs they suffered.
Duniway never intended her activism to be limited to gaining the vote for women in Oregon. That was supposed to be a battle won early on so she could then focus her writing and activism on the bigger needs of justice and rights for all people. The masthead of her newspaper, "The New Northwest", declared her intentions:
A Journal for the People.
Devoted to the Interests of Humanity.
Independent in Politics and Religion.
Alive to all Live Issues, and thoroughly Radical in Opposing and Exposing the Wrongs of the Masses.
She was Oregon's first great progressive; how much more could she have accomplished had the men of this state done what their peers in California, Washington and Idaho did years before they did: open the vote to women? But she spent 41 years working tirelessly for the victory she knew would come but took until 1912. In so doing, she blazed a trail for the women who followed in her path. She was a bridge from Oregon's pioneer past to the present day, a state that, with Tina Kotek, now has had more women Speakers of the House than any other state.
To say that Abigail Scott Duniway is the person in Oregon's past most deserving of the honor of a bridge naming is not, of course, to diminish the lives and accomplishments of anyone else. We must learn and tell the story of Beatrice Cannady and honor her; we can also find ways to honor our local heroes who may not have changed history but did make the city a better place to live. In regards to Kirk Reeves, I have a suggestion: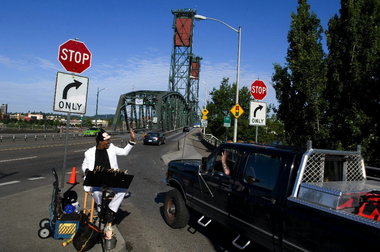 In the spirit of the Mill's End Park, the World's Smallest Park, I propose that the section of Hawthorne Bridge that was Kirk's familar perch in the afternoons and evenings be designated by the City as the "Working Kirk Reeves Memorial Performance Park". I can see that small area turned into a spot where others can come and perform in his honor. A plaque could be set in the railing; other possibilities exist to make that small area special and enable its use as a place for people to follow in Kirk's example.
I am so happy the bridge naming committee recognized Abigail Scott Duniway's place in Oregon's, and Portland's, history. The other three names have merit, too, although none garnered much public support (Cascadia, in various forms, 60; Tillicum, 46; Wy'east, 53). A public hearing will be held on February 4th, 7:00 pm, at the Oregon Historical Society; this will be the one chance we have to share our feelings directly with the naming committee and TriMet.
The effort to name the bridge after Duniway was the brainchild of my friend Mary Schutten. Mary's lived through much history herself, having been a college athlete before Title IX and now living in a state the refuses to let her and her partner marry legally. I was thrilled Mary asked me to help her move "The Abigail Bridge" forward; I knew almost nothing about Duniway before this, and now I am astounded at the life of this great Oregonian. Naming this bridge, which will be a gorgeous addition to the Bridgetown riverscape, in her honor will finally place Abigail Scott Duniway's name and life in a place where we can never forget her again.
Or the women for whom she fought so long and hard.