Will Emily's List be successful in defeating Democrat Steve Cohen, one of the most progressive new members of Congress? We'll find out when polls close tonight in Tennessee's 9th Congressional District.
I cut my teeth working for Steve Cohen's campaigns in high school when he served in the Tennessee Senate. He's a great guy and a helluva legislator. As a transplanted Memphian, I will be very watching closely tonight.
Despite a strong record of constituent service, civil rights, and a 96 percent progressive rating from Progressive Punch, Congressman Cohen is being targeted by Emily's List, who has directed hundreds of thousands of dollars to challenger Nikki Tinker, a corporate attorney and former campaign manager for Harold Ford (see lower left blog ad from 21st Century Dems).
Let's take a look at the advertising Emily's List is funding:
[Removed]
Hmmm.. O.K., so the ad appears to have been removed. Anyway, it links Cohen with the KKK. Here's how The Tennessean described it:
Rep. Steve Cohen, a white congressman from a mostly black district, is linked to images of the Ku Klux Klan in a TV ad for his top African-American opponent in Thursday's Democratic primary.

The ad for Nikki Tinker juxtaposes pictures of Cohen, a statue of Confederate Gen. Nathan Bedford Forrest and a hooded Klansman while asking, "Who is the real Steve Cohen?"

Cohen, a former state senator with a long record as a civil rights supporter, was elected in 2006 and is the first white member of Congress from Memphis in more than three decades.
To a person, every local Emily's List donor in Memphis I know thinks it was a terrible, terrible decision for the organization to wade into the muck here. Even local Memphian and long-time pro-choice activist Cybill Shepherd personally urged them to stay out. But no luck.
Keith Obermann's reaction to the campaign:
Emily's List is, of course, shocked... just shocked at the recent turn of events. Spare me. Everyone knew what this race was going to be about. And if Emily's List was unaware of the role Cohen's religion and race would play in the campaign before endorsing neophyte Tinker, well, that's a problem too.
Here's a flyer from earlier this year before Emily's List directed hundreds of thousands of dollars to the race: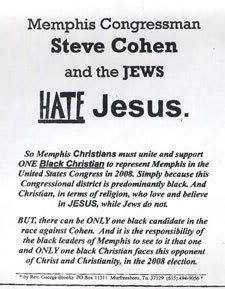 You might think a flyer like that would keep Emily's List from primarying one of the most progressive incumbents in Congress. You might also think that Cohen's twenty-five year pro-choice track record would trump a challenger who only two years ago initially refused to answer if she supported abortion rights. But you'd be wrong.
Stay tuned. And, Nikki Tinker, you stay classy.
[Update -- Barack Obama has released a statement condemning the Nikki Tinker campaign tactics:
"These incendiary and personal attacks have no place in our politics, and will do nothing to help the good people of Tennessee. It's time to turn the page on a politics driven by negativity and division so that we can come together to lift up our communities and our country," Obama said in a statement released by his campaign headquarters in Chicago.]
[Update 8 p.m., by Kari. From the Memphis Commercial-Appeal:
With 168 of 208 precincts reporting, Cohen won 79.23 percent of the vote, greatly expanding his base of support from the 2006 Democratic Primary in which he won 31 percent of the vote on a crowded ballot. His closest challenger, attorney Nikki Tinker, received 18.68 percent of vote, more than six points fewer than the 25 percent she received in 2006.