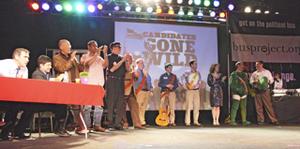 Candidates Gone Wild is back. And it's this Monday, April 26 at the Aladdin Theater in Portland. This being the ninth edition of one of the most unique political events in Oregon, we wanted to make sure Monday's affair didn't disappoint.
Folks from Willamette Week, Oregon Bus Project and Live Wire have been meeting for a couple months to plan the event and here's a preview:
We often focus on the more high-profile positions (Governor, Portland Mayor). But this year we're covering two important, but often overlooked races: Metro President and Multnomah County Commission District 2 (the seat vacated by Jeff Cogen).
In attendance will be Metro President candidates Rex Burkholder, Tom Hughes and Bob Stacey, and County Commission candidates Karol Collymore, Chuck Currie, Gary Hansen, Tom Markgraf, Maria Rubio, Loretta Smith and Paul van Orden.
Some people like the wackiness of Candidates Gone Wild. Some like the substantive and revealing questions. This Monday we have both.
Storm Large returns as our MC and she'll be singing a song at the end of the evening. Live Wire and Curious Comedy members have put together a number of hilarious political skits. The County Commission candidates will try to stump the audience with "two truths and a lie." We have videos of our gubernatorial candidates that will surprise you, and music by Alan Singley and Pants Machine.
Of course, we will grill the candidates on the important issues. A surprise game show host (who may or may not be related to Alex Trebek) will put the Metro President candidates through the ringer in Celebrity Jeopardy.
In a segment called "Dancing with the Constituents," the Multnomah County Commission candidates will tackle questions from members of their district. Hank Stern from Willamette Week and Caitlin Baggott from the Bus Project will be ready to ask follow ups if any of the candidates dance around the question.
Doors open at 7pm and the show starts at 8pm this Monday, April 26 at the Aladdin Theater. Tickets are only $5 and you can pick them up at Willamette Week (in person or online), or the Bus Project office. See you there.