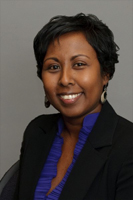 Roberta Phillip announced this morning that she is no longer a candidate for the Multnomah County Board of Commissioners. Why?
My job at Multnomah County is incredibly important to me because it is a great opportunity for public service. It is even more important during this time of transition, with a new Chair and the next budget being developed in Chair Cogen's office. Here I can have a substantial impact on the issues that matter most to me — the reason I was running for County Commissioner. ... But in order for me to do that job, I must set aside my campaign for the seat on Board of County Commissioners. ... My goal is public service, not the winning of a political race.
I was extraordinarily fortunate to be able work with Roberta on her campaign. I have met one of Oregon's new leaders, a person who gets out and makes a difference in her community while others talk a big talk. I have seen first-hand the effect she has on people: they believe in her. When I was interviewing all the candidates for this seat for the Portland Sentinel, it was Roberta who insisted that we meet in person. People talk about "relationships" and "connecting with people" all the time; Roberta makes it happen.
Roberta is a leader when very few who claim that title truly are. She is also now my friend, a big win for me. And she is a policy advisor I trust Multnomah County Chair Jeff Cogen will listen to carefully in the coming months as he works to craft a budget dumped onto his lap by unforeseen circumstances. I've come to believe that he is fully committed to finding ways to serve the most needy of our residents, and I have come to know that in Roberta Phillip, he has an advisor of exceptional intelligence, compassion and commitment.
She's the real deal.
Read her full statement at RobertaPhillip.net.