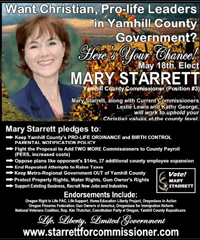 Mary Starrett - the Portland TV personality turned national lunatic fringe spokesperson - is running for Yamhill County Commission. She's trying to take out the only Democrat on the county commission, two-term incumbent Commissioner Mary Stern.
In 2006, Starrett ran for Governor of Oregon on the Constitution Party ticket, and now serves as the Constitution Party's national spokesperson. In her campaign for Yamhill County, she's running hard on the right, as the print ad there demonstrates (view full size). She is, of course, being supported by local Tea Party activists. In a recent debate, Starrett slammed Stern for supporting Measures 66 and 67 - as well as a hotel/motel tax for tourism promotion. (Oddly, Starrett called that a tax on local residents - really?)
Interestingly, Starrett is supported by Oregon Right to Life in this race. Why is that interesting? Because Starrett was a founder of Oregonians for Life, a group that argued that ORTL had been "too willing to compromise with pro-abortion forces", according to the Christian News Northwest.
Here's just a sampling of the kind of rhetoric folks in Yamhill County will have to get used to, if they vote Starrett into office.
"Jesus didn't come to bring peace," says Starrett, the former AM Northwest co-host on KATU Channel 2 and former KPDQ radio talk host. "He came to bring a sword. And He came to divide. It is time to cause division among the brethren. He says He is going to divide the sheep from the goats. We have been lukewarm too long. There is a time and place for us to sit there and be complacent and compliant and also a time to say, 'I have seen a picture of a ripped-up baby in a garbage can. I have seen enough.' "
This is a race definitely worth watching. Starrett's bigger ambitions are obvious; and a post on the Yamhill County Commission may give her a launching pad. Connect with Mary Stern on Facebook, and give her campaign a hand.