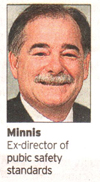 John Minnis - the former Republican state senator (and spouse of GOP House Speaker Karen Minnis) - now faces formal charges of sexual harrassment and disability discrimination, reports the Oregonian.
If the charges hold up, he could be required to pay as much as $2 million to the victim of his allegedly unwanted advances. From the O:
The document accused Minnis of subjecting a female employee to sexual advances that began in October 2008 during a work-related trip to Bend and ended in November 2009, when the two attended a professional conference in San Diego. She says he frequently touched her and made inappropriate comments, including telling her his goal was to be "the best lover."

Oregon labor officials also say Minnis violated disability protections when he plied the employee with vodka to weaken her resistance even though Minnis knew she was an alcoholic and had alcohol-related blackouts. The woman told state officials that she passed out on more than one occasion with Minnis, and later woke up in bed wearing only her underpants and not remembering what had happened.
To add insult to injury, the print edition of the Oregonian contained an unintentional (?) bit of extreme irony in the caption (reproduced above). Big hat tip for noticing the caption to Randy Stapilus at the Ridenbaugh Press.