A poll from Eugene-based Lindholm Research has Allen Alley leading Chris Dudley in the Republican gubenatorial primary.
It's Alley 29, Dudley 26, Lim 10, Sizemore 4. Still a huge undecided at 29%. The margin of error is 5%, so it's anybody's game.
While Dudley has led most of the way, as Lindhold notes, a last-minute shift is within the realm of possibility:
Large movements in the final days have happened before in the Oregon Republican Gubernatorial Primary. In 2002, Ron Saxton went from first in the polls to finish in third place in the final few days.
An earlier Lindholm poll in late April had it at Dudley 30, Alley 13, Sizemore 8, Lim 6 with 41% undecided. So, if this poll is accurate, a quarter of the earlier undecideds have now decided - and they're almost entirely going to Alley. There's also some small erosion of support for Dudley and Sizemore (and a slight gain by Lim).
If this is the trend - that late-breaking undecideds are going for Alley, we have an upset in the making.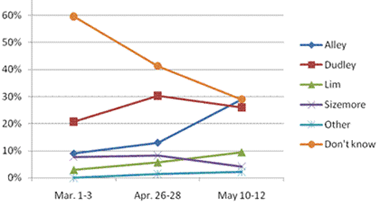 Hat tip to WW. Discuss.