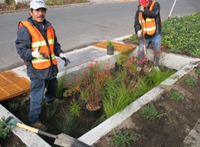 [Editors' note: Today, we welcome Evan Manvel to our roster of contributors. Evan is a longtime policy advocate - especially on environmental and transportation issues. He's also been a regular guest columnist, most recently contributing "Four lessons I've learned, and a request". Welcome, Evan!]
Imagine a school district discovering their new school ended up costing less than they budgeted. And the school board decided to spend some of the savings on early childhood education – a long-term investment that will save the district money and improve performance, but one the district has been unable to fund in the past. Would you support it?
That's parallel to what the Portland City Council did this spring, when it invested some projected sewer savings into long-term stormwater management projects. You might not have heard about it, as media coverage, hype, and irresponsible sound bites have portrayed the decision as a sewer-for-bike lanes deal. As proposals for raising sewer rates continue, it's especially important to understand the previous decision.
To review: various sewer projects under construction were projected to come in significantly under budget (by about $40 million). The City Council decided to invest $20 million of that money into the long-term health of the sewer and stormwater system, creating or preserving 280 family-wage jobs. The $20 million will build Green Streets, such as planted curb extensions and roadside drainage swales.
Green Streets are a smart long-term investment. As 60 to 70% of our stormwater pollution comes off our streets and parking lots, finding ways to filter that runoff and avoid sewer overflows will save money, while protecting the health of our rivers, salmon, and drinking water. By letting nature do its work, savings over traditional hard infrastructure approaches are significant, ranging from 20 to 63%. Portland ratepayers will be getting $25 to $54 million of sewer and stormwater services for $20 million. For example, in the Tabor to the River program area, green plus grey infrastructure is projected to cost $81 million, whereas grey alone would was projected to cost $144 million.
Green infrastructure is clearly smart. But here's the extra-smart thing the Council did: as long as it was spending money on sewer and stormwater infrastructure – significantly revamping some of Portland's streetscape – it decided to target those investments in places that would serve multiple city goals, including improving transportation choices and safety.
How, then, did this snowball into one of the most misunderstood and vilified decisions of City Council in the past several years?
First, the issues are somewhat complex. Stormwater and sewage management isn't what most people call sexy, and the overlap between sewers and transportation infrastructure and the complex funding rules and pots of money, aren't designed for a sound bite. Bioswales are wonky.
Second, the media contributed sloppy writing and headline choice, which creates controversy and sells newspapers. Perhaps the most poignant example is Janie Har's March 17th article in The Oregonian, "Portland City Council happily backs $20 million in sewer savings for bikes and bioswales." Here's the lede:
The Portland City Council voted today to spend $20 million in sewer contract savings to help build new bike lanes….
Two paragraphs later, she writes:
The $20 million will not pay for bike boulevards directly. The money will pay for "green" streets, a stormwater filtering feature that can double with bike lanes. Mayor Sam Adams had pledged the $20 million to jumpstart a master bike plan that aims to add 700 new miles of bikeways by 2030.
The problem is clear. The headline and lede contradict the fact of the expenditure: the money is being used for stormwater filtering. Yet various newspaper stories since - not only in The Oregonian - have reported it as bike lane funding.
Third, there was a fresh and clear desire to improve bike infrastructure, which muddied the message. The Council was under pressure to demonstrate some commitment to improving transportation choices beyond just adopting the Portland Bike Plan. For good reason -- at least one-quarter of Portlanders can't drive, two-thirds of Portlanders own bikes, and six percent regularly commute and another ten percent secondarily commute by bike. Yet spending on bicycle infrastructure has hovered between one and two percent of the city's transportation capital spending. Of course, spending on bike infrastructure means less pollution, less road wear and tear, less congestion, better health, and saved lives. Mayor Adams' Transportation Director Catherine Ciarlo called the plan "a win-win-win-win" and "a four-fer." So, in lieu of earmarked money for bike infrastructure, the Council agreed they could prioritize the Green Streets projects that overlapped with Bike Plan maps, and... boom! muddied message.
Fourth, the political season was upon us. Candidates grabbed the manufactured controversy as an example of wasted taxpayer money and threw fuel on the fire. Once the sound bites added to the earlier reporting, the sewer-for-bikes idea became a fact of Portland history, much as Al Gore was smeared with claiming to have invented the internet.
We deserve better reporting. We deserve better campaigning. Because what the Portland City Council is doing – thinking holistically about its investments and smartly saving money while improving our quality of life – deserves to be rewarded, not penalized.
Kudos to Commissioner Fritz, who lays out the complexities of this on her blog.
UPDATE: So this doesn't devolve into a debate about one reporter or article, here's an excerpt from May 12's Willamette Week (Beth Slovic) "Losers" column: "Sewers. ... Having just raided the sewer system's budget to help pay for bike lanes, Adams would grant the bureau only a 6.1 percent increase."
And a third Oregonian excerpt, from March 27: "Mayor Sam Adams and the rest of the council have voted to put $20 million in sewer contract savings toward helping build bikeways."