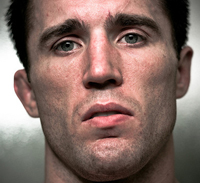 Until Wednesday, Chael Sonnen was the Republican nominee in HD-37, running to fill the seat held now by Rep. Scott Bruun (R-West Linn) against the Democratic candidate Will Rasmussen.
He's also a professional cage fighter. (If you're feeling deja vu, it's not just you - this is the second election in a row that the GOPers have run a cage fighter for the legislature. Are they trying to tell us something?)
On Wednesday, Sonnen dropped out - and his spot will be filled by another GOP candidate.
What's interesting is the back story. Earlier on Wednesday, Willamette Week had declared Sonnen their "Rogue of the Week." Why? Because he lied to them - claiming that he didn't have a Twitter account, when in fact, he actually did.
And not only did he have a Twitter account, he was actively posting tweets -- with at least one note that was called "racist and xenophobic" by a writer at Huffington Post, Dedrick Muhammad: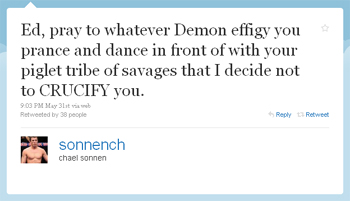 Why would Sonnen post such a bizarre statement? Apparently, the coach of his upcoming opponent is Brazilian - and well, a certain amount of idiotic bravado goes with the turf.
Back to the lying part: When notified about this, WW reporter Nigel Jaquiss sent Sonnen a note (full email transcript here) asking about it. Sonnen's response?
Hi Nigel, I do not have a "twitter," account.
Just one problem. On April 23rd, Sonnen gave a taped interview (ffwd to 45:40) in which he not only admitted that he had a Twitter account, but he spelled out the address for the audience:
Q: You're on Twitter, right?

Sonnen: Yeah, I'm trying.

Q: Tell the people what your Twitter page is.

Sonnen: I believe it is "s-o-n-n-e-n-c-h"... "s-o-n-n-e-n-c-h"
And just like that, Chael Sonnen is out of the race for HD-37. (He's claiming, of course, that he dropped out this week for an entirely unrelated reason.) What a buffoon.
There's more at USA Today, Bleacher Report, West Linn Tidings, Oregonian, and Yahoo Sports.