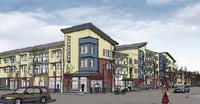 For those who argue that the city should stay out of the high school redesign discussion, look at this outstanding Housing Authority of Portland project as an example of what the city and other local governmental partners can do to help. 130 units of housing (30 of them new, 100 rehabbed), right across from Humboldt Elementary and a few blocks from Jefferson. If there are 130 K-12 kids in those units, that represents about $1,000,000 a year in state dollars for schools in the Jefferson cluster, plus additional federal Title I funding. The entire instructional budget at Jefferson is just over $3 million, for comparison.
A project of this scale, all by itself, represents the potential to keep enrollment at sustainable levels in the neighborhood elementary and middle schools, and help solve the enrollment issues in high schools. By contrast, if it were built in a neighborhood with an already-overcrowded elementary school, it would create the need for a new school--about a $20 million proposition. Unfortunately, very little is done currently to coordinate school facilities and curriculum planning with housing investments.
Of course, administrative stability and curriculum are other critical elements in stabilizing and growing enrollment in our high schools. But make no mistake, housing investments make a big difference. The city spends millions of dollars a year in order to gap finance affordable housing projects, while also, through its Housing Bureau, playing a central role in the coordination of state tax credits, federal grants, and other external housing resources. Over the course of the past fifteen years, the city has participated financially in the construction or preservation of over 10,000 housing units.
Investment in family housing is not a silver bullet for schools, but it is a huge factor. The potential for extra enrollment-based dollars creates the opportunity to engage neighborhood parents in a discussion about priorities for the curriculum. Ideally, not just discussions about what to preserve, but also what new classes might be added in order to make these schools as attractive as possible to parents.