Oregon GOP Senate candidate Jim Huffman is doing some crazy crap on Twitter these days. Most of the really weird stuff has been retweeting right wing talk show hosts and blogs, even going so far as to retweet those questioning Obama's macho-ness. Your typical playground bully kind of stuff.
But today, Huffman may have actually stepped in it with this tweet: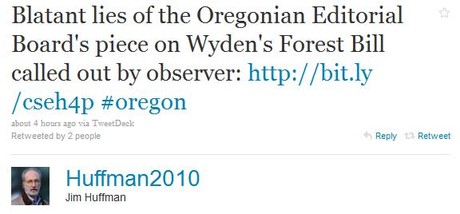 I'm no expert on how to run a campaign, but it seems like calling the editorial board of the largest newspaper in the state liars isn't a smart strategy.