BREAKING NEWS! This just in. Two new states have just joined the Union. They're going to be known as "Hawaii" and "Alaska". One tropical and one up north near the Arctic Circle. We'll see how long it takes for them to immerse themselves in American culture and public life. Might take a while, but I'm sure it'll happen someday. Who knows? Somebody we may even have presidential and vice-presidential candidates from those states.
What? Oh, that didn't just happen? You say it happened in 1959?
Weird. According to the Multnomah County Republican Party, there's still just 48 states. Here's the photographic evidence from their latest "U-Choose" meeting.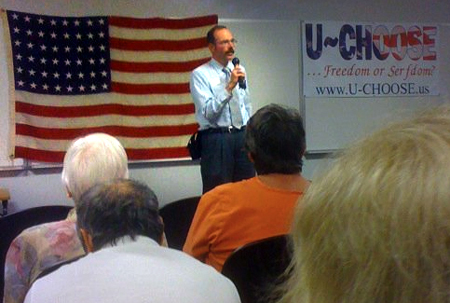 Nothing quite says Leadership for the Future like a 48-star American flag.
(FYI, the guy in the photo is Gordon Fiddes, who is running against Rep. Margaret Doherty.)
Oddly, U-Choose has its own website, but describes themselves as "the political issues action team" of the Multnomah GOP. Not sure what the rest of the county party does, if it's not political issues action. Maybe they're busy figuring out how to add a couple states to get the USA up to a round number of states.