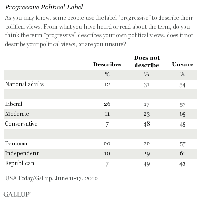 Sometime back in the early aughts, liberals began rebranding themselves as "progressives." This was all about optics; "liberal" had become a political epithet, so lefties were trying to find an untainted substitute. How has the rebranding gone? Not so great. A Gallup poll released yesterday shows that a majority of Americans don't know what it means--including majorities of liberals and Democrats. (Conservatives and Republicans have a better idea, perhaps indicating that within the Fox-o-sphere, "progressive" is taking on the old taint of "liberal.")
Commenting on the poll, Matt Yglesias says it's not just "progressive"; people are generally just unsophisticated about connecting labels and political philosophies.
I only wish the same level of scrutiny were applied to assertions about whether the public is "liberal" or "conservative" where I believe there's strong circumstantial evidence that many people just don't understand these terms in the way political and media professionals understand them. For example, when you break these things out by race you find that whites are more "liberal" than blacks, which simply doesn't describe either voting behavior or views on issues correctly.
Partly I think this is a function of the tug-of-war ideologues wage over trying to re-brand each other's label as something analogous to "immoral" or "evil." But partly I think it's because the political coalitions that claim these labels shift. We're seeing that happen in the Republican party right now, as adherents of different policy positions scrap for the title of "conservative," leaving erstwhile far-righties like Charlie Crist toting the banner of some kind of not-quite-tea-party conservatism abandoned by the purer of heart. Rebranding is happening, but liberals/Democrats aren't leading the charge.
In any case, I'd say the great "progressive" rebrand can be called a failure. I think we'd do better to reclaim "liberal."