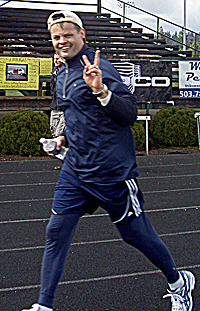 Up until today, Scott Bruun was just another Oregon GOP legislator sporting an odd Prince Charming handsome quality that seemed ripe for a Simpson's parody (this is really all I knew about Bruun..I haven't looked at his policy positions yet).
But no more.
Bruun is now out of the closet as a full-throated devotee of the "Let's Get Back To The Values of Ebeneezer Scrooge" contingent.
Greg Sargent, The Plum Line, Washington Post:
GOPer Scott Bruun, a state representative in Oregon who's running to unseat Dem Rep. Kurt Schrader, told a local radio program that extending unemployment benefits beyond two years is "European," adding that an extension would bring "shame on our government" for "encouraging" joblessness.
Asked by KPAM radio host Victoria Taft whether he would have supported extending benefits, Bruun responded that he wouldn't have:

"When we're talking up over close to two years and longer with jobless benefits, I think we really start talking about a European style system and all the problems that that sort of system brings if you try to bring that sort of system to the United States."

A bit later, Bruun said that we have to adopt a new approach to those who have been receiving benefits for a long time:

"We need sort of a new game plan going forward, a new accountability. Shame on our government, if you will, if the government is in a position where we're encouraging people to stay out of the workplace longer."
First of all, you've got to hand it to Victoria Taft--to get her guest torqued up enough that he feels the need to pander to her particular brand of crazy to the detriment of his own campaign is a stellar feat. Thanks, Vic.
But watching Bruun step into the baseless meme that somehow everybody on unemployment is a fat, lazy slob who simply doesn't want to work is rather entertaining and honestly, quite a campaign message--especially given how many likely Oregon voters have used unemployment in the last two years.
And then the cherry-on-top crack about Europe. So not only are we supposed to look down on our fellow Oregonians who have used or are using unemployment insurance--there's a murky idea that somehow they're also cowards whose ass we had to save during World War II and oh by the way...SOCIALISTS!!
Nobody stirs the boogeyman like a GOP candidate stumping from a rightwing radio studio. (Spooky music)..."beware the socialist unemployment check....it will turn us into the MarxistsFascistsHitlerFrenchies! "
Seriously Victoria, the Schrader campaign owes you one.