Kari broke the story here at Blue Oregon earlier today regarding the withdrawal of David Edwards from his Oregon House race due to his wife's poor health.
Edwards is barely out the door before Republican rival Shawn Lindsay's jubilant Tweet: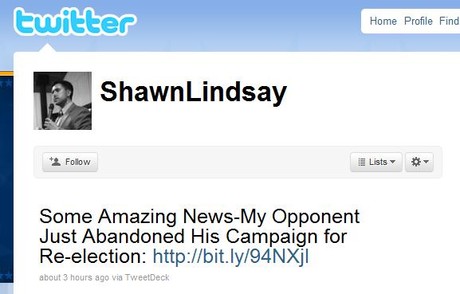 It's "amazing" that David Edwards had to drop out because his wife is too ill for him to continue?
Jeez dude, how about showing a little grace and dignity for Edwards situation? One of the first rules in politics: when your opponent is in a hurtful family situation, show some empathy or at least some sympathy for the situation. It generates good will and has the happy coincidence of making you NOT LOOK LIKE A JACKASS.
Lindsay even goes on to use Edwards' departure as a fundraising opportunity.
Yeesh.