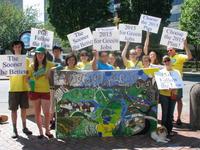 Progressives sometimes have a tendency to get caught up with numbers: the number of uninsured Oregonians, the amount of pollution coming from the Boardman Coal Plant's smokestack, or the number of jobs that can be saved through progressive tax policies. But while numbers and statistics are incredibly important, sometimes progressive activists need to remember the power art holds to convey a progressive message and spur people to imagine the future they want.
It's for this reason that a group of students, recent graduates, and supporters of student interests today used art to put our vision of Oregon's clean energy future on canvas, and took our message straight to one of the state's biggest polluters. This morning a group of tending-toward-young activists, of which I am a part, set up a seven-foot canvas in Portland's Waterfront Park and invited passersby to join us painting a depiction of the transition to clean energy in Oregon. At noon we walked to Portland General Electric's customer service station, for a rally in full view of PGE offices. Our ask of PGE: replace the Boardman Coal Plant with cleaner energy sources by 2015, the shortest timescale recommended by the Department of Environmental Quality.
What was especially interesting to me, besides the fact that students and community members from diverse backgrounds came together to support retiring Oregon's only coal plant within the next five years, was how the artistic element injected a ray of positivity and goodwill into the day's activities. While we worked on the painting, many people stopped to ask about the project, and learned something new about Oregon's dependence on dirty coal power.
Passersby from small children to grandparents took time to pick up a paint brush and add some color to a wind turbine being erected, or a mountain range in the background. Art, with a focus on the beautiful, has unique power to remind us that solutions exist to environmental and social problems, and only a tendency to cling to the status quo prevents those solutions being actualized.
It took four hours to finish the painting, and then we headed to PGE's offices. During a sidewalk rally we showed off our masterpiece on the pavement, while people emerged from the building to see what was going on outside. This was another lesson from the day's work: while just a crowd of people with signs might have turned onlookers away, a colorful painting on a giant piece of canvas made them want to stop, look, and find out more.
At the sidewalk rally, building security personnel kindly accepted a petition urging the Boardman Coal Plant's speedy retirement, promising to deliver it to PGE president and CEO Jim Piro. Students engaged in efforts to move Oregon beyond coal spoke about the importance of this moment for Oregon's clean energy future, the impressive degree to which student groups have already weighed in on the Boardman Coal Plant issue, and the value of art for envisioning the future. The take home message was we will keep pushing clean energy solutions for as long as it takes—and if PGE needs a visual aid to absorb the message, we're happy to oblige.
The day's event ended, as it began, on a positive note. PGE heard our message, though whether or not the company will finally become serious about responsibly retiring its coal plant is another question. How else might art infuse new vitality into Oregon's progressive movement? It's a question I certainly don't have all the answers to, and I'd love to hear your thoughts!