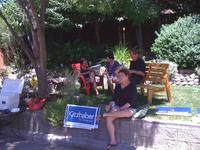 Some of the busiest people I know attended the Kitzhaber House Party in my backyard yesterday afternoon. The president of the Habitat for Humanity board, a business leader, a veteran OEA leader, a candidate for State Representative HD6, a candidate for county commissioner, a couple who regularly host huge Wyden, Merkley, Kitzhaber events with 200+ in attendance, a school board member, two men from large flyfishing associations and more listened and watched the Kitzhaber message together.
The story of Dudley's resume and Kitzhaber's resume is the story that needs be shared across the state. Their sharply contrasted differences paint the picture of just how unprepared Dudley is to be governor. He's "cared" about the state for 8 months after his selection to be the Republican candidate. He has lived in Oregon since 2002 and played professional basketball. Kitzhaber was raised in Oregon, became an emergency room doc and worked in rural Southern Oregon. He's spent his entire life helping people through his service to the people of Oregon as a legislator and as our governor.
Afterwards we cozied up to discuss each of our networks and began listing possible events in August, September and October. We fondly remembered how Kitz had substantially improved the economy, we remembered his ability to color outside of the lines (health care), his ability to diagnose complex issues, and his love of all things Oregon.
Each person left with their lawn signs and bumper stickers. More importantly they left with their shoulders back, standing tall and determined to do all they could to help elect the the right man at the right time for the most complicated issues in Oregon's history.
The grassroots campaign is officially launched!