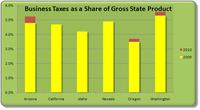 In today's Oregonian, Steve Duin takes on the claims that have been thrown around regarding Oregon's business climate:
When 41 percent of Republicans, according to CNN, continue to insist Barack Obama wasn't born in this country, we hardly need another reminder that perception is driving too many of us to loopy conclusions. One of the local favorites is that Oregon is inhospitable to business.

The grousing over the passage of Measure 67, which raised corporate taxes, continues to fuel that perception.
What does Duin find? A group of Oregon business leaders who are tired of the complaining, and who have just published a report comparing Oregon's business climate to other Western states.
The CEOs who've put their name on this study are less troubled by state and local business taxes -- which account for less than one percent of their total costs -- than by the tactics some take to avoid paying taxes altogether.

"As an investment advisor, I see clients move to Washington to save on the income tax," Tony Arnerich said. "You're an Oregonian all your life and suddenly taxes become a philosophical burden and you run to Washington. That's a good example of how my generation morphed from 'We the people' to 'Me the people.'"
The report that Duin cites was published this week by six prominent Oregon businesspeople, and is titled "Is the Grass Really Greener in Other States? An Oregon Perspective".
The report compares Oregon's business climate to other Western states. The authors' conclusions, based upon solid data, are clear: while things are difficult all over, Oregon actually holds its own in comparison to other Western states. In fact, business owners in other Western states would no doubt love to have Oregon's overall business climate instead of their own.
Among the Western states that were the subject of the study (Arizona, California, Idaho, Nevada, Oregon and Washington), Oregon's business taxes represent a significantly lower percentage of Gross State Product than any other state. That includes the impacts of Measures 66 & 67, passed with a very strong majority of voter support in January, 2010.
Meanwhile, take a state like Nevada, thought to be something of a business-friendly economic powerhouse during the recent boom years. Nevada is in terrible shape, with a very high unemployment rate, and state budget deficits far worse than Oregon's.
Republican-controlled Arizona, facing budget woes similar to those that we face here in Oregon, recently passed a 1% increase to its statewide sales tax. Arizona's job performance in 2010 is roughly equivalent to Oregon's, though fallout from the controversial anti-immigration policies are expected to hurt Arizona's economy in the coming year.
In 2010, Washington also increased its Business & Occupation tax, along with a grab bag of other tax increases, leaving Washington with an effective corporate minimum tax nearly five times that of Oregon's new minimum following the January election.
Every state has its quirks, but Oregon is at least as friendly to business as its Western neighbors. This is the perspective of business leaders with decades of experience starting, managing and investing in businesses in Oregon and elsewhere.
In the appendix of their report, the authors highlight a large number of recent success stories from the second quarter of 2010 alone, including new jobs, business expansions, new IPOs, and huge growth in venture capital coming to Oregon. Prominent among them: the state of Oregon and its local governments have scored big in their recruitment of the renewable energy industry. Thousands of new jobs and a huge influx of dollars are coming from Oregon's red-hot solar industry, built on the foundation of Oregon's semiconductor industry. And this week, the City of Portland announced that the wind power giant Vestas will make Portland its North American headquarters, just one more success among many for Oregon's wind power industry.
The hard work needs to continue, but the facts show that Oregon is doing a good job remaining friendly to business.