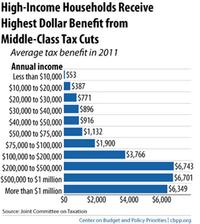 The Center on Budget and Policy Priorities recently published a short paper High-Income People Would Benefit Significantly From Extension of "Middle-Class" Tax Cuts (or 8-page PDF here).
The paper notes
A fact generally overlooked in the debate over whether Congress should extend the high-income Bush tax cuts — i.e. those targeted exclusively at couples making over $250,000 and single individuals making over $200,000 — is that these households will still receive substantial tax cuts if Congress extends the so-called "middle-class" Bush tax cuts while letting the high-income tax cuts expire as scheduled.

This is because the 2001 tax law's reductions in the lower tax brackets benefit not only people whose incomes fall within the lower brackets but also those whose incomes exceed those brackets. In fact, high-income people actually receive much larger benefits in dollar terms from the so-called "middle-class tax cuts" than middle-class people do.
It's yet another reason why Congress should allow the Bush-era tax cuts that benefit only the wealthiest Americans to expire as scheduled.
UPDATE: See Paul Krugman's column Now That's Rich.
Discuss.
---

Chuck Sheketoff is the executive director of the Oregon Center for Public Policy. You can sign up to receive email notification of OCPP materials at www.ocpp.org.