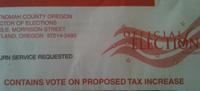 There are a lot of fascinating parts of elections – the candidates, the measures, the ads, the donor lists, the grassroots efforts, the media coverage. Yet I'm also fascinated with the details of how elections are run and how that affects the outcome.
Take, for example, the outside of the envelope that our ballots come in. In big, bright letters, this election's envelope says "CONTAINS VOTE ON PROPOSED TAX INCREASE."
That statement is required by ORS 250.038, a law passed by the 1999 Legislature. Perhaps the Republican-led legislature thought such language would increase the turn-out of Republicans, and make it harder to pass tax measures. Perhaps the bill gained support as it helped ensure people would vote, allowing us to reach the double majority requirement. Anyone want to provide additional history?
As far as I can tell, that highlight of taxes is the only thing on the envelope about the content of the ballot and the election. As someone who's designed a fair number of pieces of direct mail, I understand the importance of the envelope – figuring out the "teaser" that will encourage people to open the envelope (a big part of the battle with direct mail). The envelope design choices include: Who's listed as the return address? Do you use a stamp or an imprint? Do you hand-write the addresses? And what "teaser" language increases the importance of the contents, so someone pays attention instead of recycling the mail or tossing it in a pile to be forgotten?
I don't think envelope teasers are required in Oregon for ballot subject matters other than taxes. Amending Oregon's Constitution requires a statement at the start of the ballot title - "Amends Constitution:", but nothing on the envelope. We get squat notice that our ballots include voting on U.S. Senators, who pass laws funding wars, changing our health care, increasing or decreasing our workplace protections, and protecting clean water. Yet a $10-a-year levy requires bold letters on the envelope.
We have a somewhat rare responsibility in Oregon, with our mail-focused elections. So, BlueOregon readers – if you had your druthers, what would you do to the envelope? Any thoughts on how to really motivate people if you want increased turn-out? "Millions of people are voting: join them!" "You may be a winner of a new Governor!"? "Failure to Open this Envelope May Result in Politicians You Don't Like"?