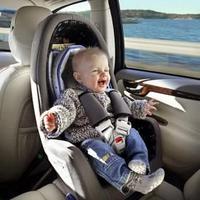 Legislature found common ground on ignition interlocks, which helped earn this high rating. What are your ideas for finding common ground on public safety?
In September the Oregonian reported road fatalities in Oregon were at an all time low. Today, there's more good news. Oregon and Washington were ranked highest in roadway safety by the Illinois-based Emergency Nurses Association.
From journalist Ted Gest:
Oregon and Washington ranked highest and North Dakota lowest in the semi-annual rating of roadway safety by the Illinois-based Emergency Nurses Association. The group cited Minnesota, Arkansas, Louisiana and Wisconsin for making progress. Tennessee was rated third highest, and Arizona, Idaho, Iowa and South Dakota joined North Dakota at the bottom. The group examines roadway safety laws in all 50 states and the District of Columbia and scores each based on 14 criteria. For the first time, the report includes a distracted driving law among the criteria.

The criteria include seat belt use; child passenger safety; graduated driver licensing for teens; all-rider motorcycle helmet requirements; ignition interlock devices to prevent drunk driving, and cellphone and wireless device use. States receive one point for each type of legislation. With 14 points each, Oregon and Washington were the only states to receive the best possible score for the second time in a row.
Discussions on how best to increase public safety can get heated around here, but improving Oregon's ignitition interlock use to help keep drunks off the road has been an example of where common ground can be found.
Ignition interlocks require drivers to blow into a valve to start their car; the car will not start if the driver's breath shows even small amounts of alcohol.
In 2007, Rep. Mitch Greenlick (D-Portland) and I joined with Crime Victims United to pass HB 2774 , which required that a person convicted of DUII use an ignition interlock device for one year after their driving priveledges have been reinstated following their first conviction. It required two years of ignition interlock use if they get a second.
It's an example of unlikely allies finding common ground. This week I'm at the American Society of Criminology Conference looking for more common-ground ideas on how best to increase public safety.
With a looming budget deficit and a split House of Representatives, we'll need all the good ideas we can get that find common ground. Have any ideas?