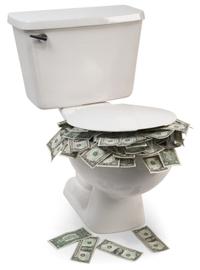 Like most people, I started the new year thinking about how we finance toilets. I thought about how common water-efficient toilets are in Cambodia, and pondered what we could do to make them more common here.
There's an old joke: An economist is walking with her friend, and they see a $20 bill on the sidewalk. The economist walks by it, and her friend asks, "Aren't you going to pick that up?" The economist replies, "Of course not. If there were a $20 bill on the ground, someone would have picked it up already." The point: while markets may be efficient in theory, the real world is full of inefficiencies and opportunity.
In a January 9th Oregonian piece, Ted Sickinger wrote about efforts to improve energy efficiency, using the Portland Opera as an example. The opera has made significant investments in efficiency, and is now deciding whether to spend $20,000 on an upgrade that would save $5,600 in energy costs each year – paying back after 3.6 years. The opera appears unlikely to do it, concerned about fronting the capital.
Sickinger writes, "It's a dilemma energy efficiency experts have faced for decades: how to motivate investments that seem eminently sensible yet don't reach the top of a customer's priority list." Bob Jenks of the Citizens' Utility Board explains, "It requires the owner to participate and desire the investment. They have to invest not just some of their own money but some of their intellectual capital and management time. They have to agree that this is a priority worth taking at this time." The projects may pencil out as profitable, but the motivation can be lacking.
I had a personal experience in efficiency investment two years ago. The City of Portland Water Bureau was offering customers $100 to replace each water-wasting toilet with a water-efficient one. I dawdled a bit, but with my dad's help eventually replaced two toilets – only to discover the limited subsidy funds had run out.
Yet despite not getting $200 from the city, my investment paid off – the $400 I spent on new toilets has cut my water bills by about $160 a year. Within three years of the investment I'll be whole again – and saving $160 a year in perpetuity. Twenty-dollar bills were truly lying on the ground, but it took a compelling program from the City to get me to reach down.
The City had multiple goals in offering its rebate program: saving customers money, conserving water, increasing awareness of the EPA's new third-party WaterSense certification of toilets as both water-wise and capable flushers, and creating pressure on local plumbing and home stores to stock certified toilets. The Water Bureau's Sarah Santner, who oversaw the toilet rebate program, believes it succeeded across the board. A current bureau program focuses on upgrading toilets in low-income housing.
Smart work. But could we do even more? As cities ponder next steps, they could provide a broad swath of customers efficient toilets secured by future water savings, instead of providing a limited number of rebates. That is, cities could pay for efficient toilets up-front, and recoup the money via water bills by collecting the difference between the old bills and new bills, rolling it back into the investment fund. Under such a program, I could have had my toilets installed at no cost to me, and paid $40 on each quarterly bill towards those costs, keeping my water bill at the same level as it was pre-installation. Once I'd paid the City back on its investment, my water bill would drop.
While not without hurdles, the structure would offer an option to those who can't afford the up-front costs. And the "free new toilets and lower water bills!" message would likely compel others to act, even if they could afford installation today.
In launching such a program, water bureaus could learn from recent work in the energy world, including the Energy Efficiency and Sustainable Technology Act of 2009, championed by Reps. Jules Bailey, Tobias Read, and Tim Freeman. Under that law, the Oregon Department of Energy is providing $3.5 million in up-front funds for the work of Clean Energy Works Oregon, a nonprofit focused on financing home and commercial upgrades such as insulation and efficient appliances, which customers pay for over time on utility bills. Over the next three years, Clean Energy Works is aiming to retrofit 6,000 homes and businesses across Oregon.
In these lean times, innovative financing mechanisms are a way to make our dollars go further. As we work to meet Oregon's demands for water and energy, cut waste, and become America's most efficient economy, let's take a look at the ground – for those $20 bills.
Update: As promised during his campaign, Governor Kitzhaber has announced plans to use some remaining stimulus funds for school energy efficiency audits, aiming to create jobs while finding ways to save money.