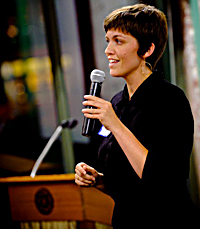 The Bus Project is one of Oregon's premier voter registration and engagement organizations. I've a special place in my heart for their work because of their focus on youth. It's critical, in my view, to continually engage the next generation of Oregonians.
Now, supporters and fans of The Bus will see a fabulous, badass woman at the helm: Caitlin Baggott. Baggott takes over from Jefferson Smith, the organization's leader for the last nine years. From the Bus Project press release:
On the eve of the Oregon Legislative session, one of the state's leading youth-organizing groups is changing Executive Directors. Current state representative Jefferson Smith will be turning his full focus to legislative work and to expanding the Bus Project model to other states. The Bus Project's Oregon work will now be led by Caitlin Baggott, Strategic Director of the Bus and creator of the organization's nationally-renown leadership training program PolitiCorps.

The Bus Project, started by a team of young Oregonians in 2001, has been led by Jefferson Smith for nearly a decade. Since its founding, the Bus Project has organized thousands of young leaders to do grassroots democracy work in the public-interest, including knocking on over 300,000 doors and registering over 70,000 voters across the state.

When Smith was elected to represent east Portland in the state legislature in 2008, the organization began a multi-year transition process, including empowering Bus Project leaders to take a more powerful role in the organization.

"Caitlin and the rest of the Bus leadership are powerfully talented and it's time to officially pass them the keys," says Smith, who is serving his second term as State Representative, "I've never been more excited about what the Bus can and will do to advance the public interest in Oregon."

Smith says he will remain closely involved with the Bus Project and the Bus Federation, a network of Bus-model organizations in Washington, Colorado, Montana and Idaho. He will focus on continuing to spread the Bus Project model nationally.

"I've got some huge shoes to fill," said Baggott, "It's been a gift to work with Jefferson and I'm grateful for his leadership. I'm also raring to get started leading this extraordinary team of organizers to do democracy's most critical work – building a great world for the next generation and developing great people to lead it."
I love seeing strong, smart women in leadership. Caitlin is taking over at a time when The Bus is helping to shape Oregon's new leaders. Caitlin has always been an amazing role model, but this high profile position does even more to show young women in our state that they can be powerful voices in their own right. I also hope that this leads to more strong, smart young women engaging with democracy.