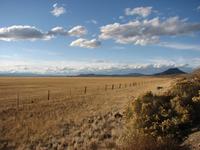 On February 14, 1859, Oregon was born.
President James Buchanan signed the bill admitting us as America's 33rd state, and the rest, as they say, is history. While there are times to focus on our problems, Oregon's statehood day is a chance to remember what we love about our home. At the risk of simply writing material for Portlandia, here's a start.
I love our natural beauty. From the rugged Wallowa Mountains to the verdant Willamette Valley, from the rocky Oregon coast to the shimmering Alvord Desert, from the famous Columbia Gorge to the soaring Cascade mountains, Oregon's natural splendor never ceases to amaze me.
I love that Oregon is a capital of great beer, continually birthing fabulous breweries that draw upon our amazing water, and great wine, connecting us to the tough soils beneath our feet. I love how Oregonians strive to create well-designed healthy communities, our willingness to invest in transportation choices, and the frequent celebration of the core joys of being on a bike or playing on a river.
I love our bookishness, from our community of amazing authors to our leading public libraries to our renowned independent bookstores. I love our connection to food – from our multibillion-dollar agricultural economy centered on family farms, to our network of farmers markets, to our amazing collection of fabulous restaurants and food carts.
I love our politics. We're a set of independent thinkers, including some of the nation's most thoughtful progressives. We're willing to take risks, and create policies that lead the country. We're able to work with those with differing perspectives, even after hard-fought election contests. We strive to tackle hard questions – how we support those with difficult end-of-life decisions, how we grow thoughtfully, how we protect our personal liberties and safety, how we invest in our children's futures, and soforth.
I also love the thought-provoking and engaging conversations we have on Blue Oregon, and the community of folks that Kari, Jeff, Jesse and others have brought together.
I could go on, but would rather listen. What do you love about Oregon?