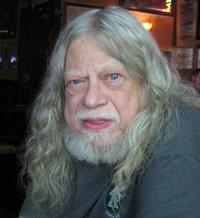 There is no doubt Portland is the best good-beer city in the United States. We drink more craft beer than any city--not per-capita, total--have the most breweries, and host the country's largest beer fest. We also have the best pubs. Draft Magazine recently named the 100 best beer bars in the US. Three of them are in New York, four in Chicago. Portland? Seven. The question arises: why is this such a good beer town?
There are a lot of reasons, but one of the most important is surely Don Younger, founder of the Horse Brass Pub. He died yesterday at 69.
Back in the late 70s, almost no one had a concept of "good beer." (For Portlanders, Blitz was the best beer in the world.) The Horse Brass was one of the first pubs to begin to offer beer that wasn't fizzy, yellow, and very mild--to the shock, no doubt, of the customers. It started on the recommendation of an English bartender, who encouraged Don put on Bass, the legendary British brewery (and owner of the first ever trademark). He soon added Whitbread, Guinness, Anchor, and others. By our standards now, these look like tame offerings, but they were astonishingly full-flavored to drinkers 35 years ago.
The Horse Brass' real virtue came in the early 80s, when a few brave souls tried to brew their own beer. First it was Chuck Coury and his ill-fated Cartwright Brewery. But then came brothers Kurt and Rob Widmer, Dick and Nancy Ponzi (bridgePort), and Fred Bowman and Art Larrance (Portland Brewing). The relationship between brewers and publicans is little mentioned, but it's absolutely critical to a brewery's success. You can brew all the great beer in the world, but if you can't get it in customers' hands, you're dead. Don put BridgePort Ale, Widmer Alt, Portland Ale, and Full Sail Golden into the market. The Horse Brass has always been a primary incubator of good beer culture on the West Coast, a crucial toe-hold for struggling new breweries.
In 1983, the Brass put in the first cask hand pump--a shockingly early innovation. (For cask fans like me, it's still hard to find good real ale.) It got it's own house beer, Younger's Special Bitter, in the 90s--though you can buy Rogue's classic English bitter elsewhere, too. It has a sister pub in London, the Prince of Wales. Through the years, the legend grew. The Horse Brass currently pours over four dozen beers, and has one of the best selections from local breweries anywhere in the city. Once a famous denizen for smokers--including Younger himself--it no longer has the blue haze, but everything else about the ambiance has the sense of preservation and continuity. Remarkably, even after 35 years and hundreds (thousands?) of new pub openings, the Horse Brass is still the best good-beer pub in the city.
In the last 36 hours, the toasts, remembrances and eulogies have been piling up. This is a fitting tribute to one of the people most responsible for shaping the city's cultural evolution, for helping create the Portland we love. The next time you're out, raise a pint for Don--