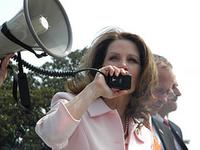 "We're strong people of faith," explained Bachmann. "My husband and I gave our lives to the Lord when we were 16 years of age and so that's been a long time now. ... And I can't say enough how important that's been to us to give us that rock of assurance on which path we should go."
I gave my life to the Lord when I was 14, so I know exactly what Michelle Bachmann is talking about. I know a lot about the conservative religionist movement that goes by the name of "evangelical Christianity" because I lived in the movement for ten years of my life. I was, in fact, even more hardcore than most evangelicals: I was also a charismatic, believing in and practicing the "gifts of the Holy Spirit" after having been "baptized in the Spirit". I spoke in tongues, and I marveled at "the Lord" revealing His will and wisdom to us through His modern "prophets".
And please pardon all the quotes; just like Bachmann's so-called faith, none of it was true. Which does not mean it's not real. It simply is not what the evangelicals and charismatics purport it to be. Their beliefs are real — beliefs in things that do not really exist — but their faith, for the most part, is as real as the love they demonstrate to those they see as sinners.
And as Jesus taught (via the fanfic we now call the New Testament), You shall know them by their works.
Fred Rogers was a devout Christian. He was, as is too often forgotten, an ordained minister. A Presbyterian. His mission from the church was to work through television, and that he did, bringing a message of peace, kindness, creativity, fun, and self-acceptance to the little ones (and their parents) who visited his neighborhood each day. At no point did Mister Rogers ever feel the slightest need to mention God or church or morality or any of the "fundamentals" with which the Christianists are determined to beat America, and the world, into submission.
"By their fruit you will recognize them" said Jesus to his followers. In the time following his death and resurrection, the identifying characteristics of Christians came to be known as the "fruit of the Spirit" (Galatians 5:22-23):
But the fruit of the Spirit is love, joy, peace, forbearance, kindness, goodness, faithfulness, gentleness and self-control. Against such things there is no law.
Peace? Gentleness? Long-suffering? Does anyone look at those words and think Michelle Bachmann? Sarah Palin? Glenn Beck?
Goodness and the racist, homophobic anger against a black President or gay Americans?
Forbearance? That means, according to Dictionary.com, "patient self-control; restraint and tolerance" and is related to the word abstinence: "the fact or practice of restraining oneslef from indulging in something". Seriously, at what part of modern political Christianism does one see the slightest hint of forbearance — of tolerance? I suppose one could count not immediately murdering every person who works at Planned Parenthood, but I'm not sure that's what Paul had in mind when he wrote to the believers at Galatia.
Gentleness, of course, is the word that most often comes to mind when discussing MisterRogers' Neighborhood. If, like me, you spent many years watching the show with your young children, you would also learn to associate the words kindness, forbearance, peace, love and joy — I can think of no person who embodied joy more than Fred Rogers. He loved showing his young viewers (and their skeptical parents) musicians, artists, dancers, and creatives of all sorts. He had so much fun visiting his "neighbors" and discovering their amazing lives. And every Friday, when they ran the long credits at the end of the show, the jazz trio that provided musical accompaniment to the show would rock out. Watch that part of the show one day and listen to the trio let go and just have fun.
When's the last time anyone saw that from those like Bachmann who are attempting to set themselves up as our religious overlords? Bachmann spreads fear, untruths, dissension, and, yes, hate. Those who are drawn to her words and acts are not those seeking spiriting guidance and awakening; she attracts those who already share her non-Christian beliefs and are looking for a political leader to bring their warped version of Christianity to power. And acting in non-spiritual ways, depending on the things of men — political power — rather than the will of God, which is far more sublime and less satisfying in this world, is the epitome of faithlessness.
Michelle Bachmann has no faith in God. She has faith in political power, and she worships the god she (and Fox News) have created: herself. Those who have a true faith in God, like Fred Rogers, are content to live out the fruits of the Spirit and leave the big outcomes to the Big Guy. After all, Jesus instructed his followers to give to the state what belonged to the state (you know: render unto Caesar…) and to give God what belongs to God.
And in all my time studying the Bible, which I did with fervor for many years, I found nothing to guide me to take over any human government.
Michelle Bachmann, Glenn Beck and the rest love to claim a holy purpose to their work, debunkings of which exist in plenty. I'll simply add one more, in light of my brief exposition to you, the sinful, of the Fruits of the Spirit; and that is:
You stiff-necked people, with uncircumcised hearts and ears! You are just like your fathers: You always resist the Holy Spirit! (Acts 7:51)
And do not grieve the Holy Spirit of God, with whom you were sealed for the day of redemption. (Ephesians 4:30)
How much more severely do you think a man deserves to be punished who has trampled the Son of God under foot, who has treated as an unholy thing the blood of the covenant that sanctified him, and who has insulted the Spirit of grace? (Hebrews 10:29)
And so I tell you, every sin and blasphemy will be forgiven men, but the blasphemy against the Spirit will not be forgiven. Anyone who speaks a word against the Son of Man will be forgiven, but anyone who speaks against the Holy Spirit will not be forgiven, either in this age or in the age to come. (Matthew 12:31–32)
The final warning came from Jesus and was spoken against the greatest opponents to true religious beliefs of his days, the Pharisees, the ones who took the writings of the Prophets and used them to control the people for political and material power. If today's Pharisees truly believe in Christ the Savior and the words of the New Testament, they would be wise to heed the words of Jesus and return to a true practice of faith, demonstrating the Fruits of the Spirit in their political lives. If they cannot, they leave us with two conclusions:
They will be unforgiven by God for their blasphemy against the Spirit.
Or they are liars abusing the religious hopes of millions.
Either way, they can go to hell.