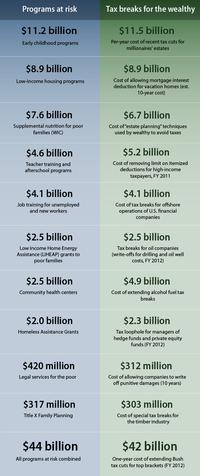 At both the state and federal level, some spending priorities are out of whack.
Here in Oregon, the Governor and Legislative Assembly are taking a cuts-only approach to balancing the budget, showing little interest in enhancing revenues to deal with Oregon's revenue shortfall.
Meanwhile, as discussed in The Costly and Ineffective Home Ownership Subsidy, a great deal of misdirected spending that takes place through the tax code, is left undisturbed.
A similar dynamic is taking place in Washington, D.C., where the House leadership seeks deep cuts in nonsecurity discretionary spending. This is the area of the budget that funds education, research, environmental protection and host of other programs that many Americans support.
And as is happening in Oregon, tax breaks for the wealthy are being left off the table in D.C.
Just how out of whack are the spending priorities by the House leadership?
Check out Infographic: Tax Breaks vs. Budget Cuts from the Center for American Progress. It provides a side-by-side comparison of safety-net cuts that the House leadership wants with the cost of specified tax breaks for the wealthy left undisturbed.
Return here to discuss.
---

Chuck Sheketoff is the executive director of the Oregon Center for Public Policy. You can sign up to receive email notification of OCPP materials at www.ocpp.org.