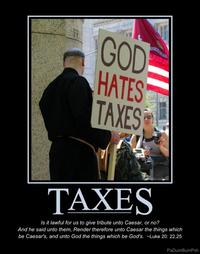 The kicker is a crazy-making law. Yes, it's nice to get a big, fat "refund" check in the mail. But when that means that two years later, the state is going to have a huge deficit, was it really worth it? Those who argue, yes, it's our money and the state took too much — well, they didn't take too much of your money. They took the right amount of your money. They always do.
The issue is how many "you's" there are.
No matter the state of the economy, tax rates remain constant. If one person makes $40,000 per year, that person is taxed at 9%. If 200,000 people make $40,000 per year, each of them is taxed at 9%. The number of taxpayers does not affect the rate at which taxpayers are taxed. One taxpayer, twenty, twenty thousand, two million — the rates remain constant until changed by law. And then they are changed for everyone.
What changes is how many people are taxed, and at what income level. If more people are working, then the state is going to collect more taxes. If more people are working at higher incomes, then, again, the state will collect more taxes. That's basic math. Cut the number of workers, or reduce worker wages and salaries, and taxes will go down. Easy-peasy:
T=(N * R1)+(N * R2)+…(N * Rn)
where
T = taxes collected
N = Number of taxpayers
R = paying specific tax rates
If R1 is the lowest rate and Rn is the highest, then if N1 increases and Nn (or any of the categories above N1) decreases, then T gets smaller. It's simple 7th grade algebra (which is part of the problem, given how few Americans are conversant in math at that level). Oregon was not taxing people too much prior to disbursement of the 2007 kicker; they simply miscalculated how many total people would be paying taxes and at what rate. The state economist guessed wrong — on the low side.
And that's the stupidest part of the kicker: it's a fracking guess. Every two years, as part of the budget process, the state economist guesses what will happen to the economy over the next two years. If the state economist fails to see a glitch in the future, like a worldwide economic meltdown, then his numbers could be a bit off. If that guess is wrong on the high side — ie, the economist over-estimates how much the state will collect in taxes and fees — the kicker is not an issue. A wrong guess on the high side means the problem is not having enough money to pay for services as the biennium progresses (this is where the Legislature found itself two years ago, resulting in massive cuts to the budget).
But guess wrong on the low side, as happened four years ago, and state law requires that the "excess" money be refunded — kicked-back — to taxpayers. (Kick back? Where do we usually hear that term?) But here's the dumb thing: Not one of those taxpayers who receives a kicker actually paid too much in taxes. Each one paid exactly the right amount of taxes. What really happened is that the state economy did better than the state economist expected — two years earlier! Yay state economy. This is a good thing, of course. Except instead of saving that surplus in a rainy day fund, the state is forced to simply chuck it out the door.
Or let's put it in terms that conservatives enjoy: Imagine state government was run like a business…
What business, upon receiving word from its accountant that it had enjoyed an unexpectedly good year, would take the surplus it received and spend it all on a party, or vacation, or even a donation to a favorite charity? How responsible would anyone regard a business owner who did not use at least part, if not most, of an unexpected surplus to invest in new equipment, or perhaps pay off debt, hire new staff to enable further growth, or at the very least to sock some of it away as a hedge against a future down turn? The conservative view is that a responsible business owner would do anything but piss away the money — and yet that's exactly what conservatives demand of state government: Have a surplus? Chunk it out the door.
Let's be crystal-clear: Any surplus the state has at the end of a biennium is not because individual taxpayers were over-taxed. They were not. Good economy or bad, individual taxpayers are taxed, each and every one, according to the current rate. No one pays too much. No one "earns" a kicker. When Oregonians receive a kicker check, what they are actually getting is other people's money! Joe's kicker check is possible because Bill, Mary, Consuela, Tranh and that woman in the apartment next door got jobs and made more money than the state economist predicted two years ago. The taxes collected by the state were not "too much;" they were simply more than the economist guessed would be collected.
What damn right does Joe have to that money?
After all, the Legislature did not spend that extra money; the Legislature spent the money it thought it would have — based on the guess of the state economist (who we now know, two years later, was wrong). The surplus may be unexpected, but it was rightfully collected — and it was not collected from Joe. Any surplus in state taxes does not belong to individual taxpayers because not one of them paid too much in taxes. If the economist had guessed correctly that the state would have an extra $1 billion dollars because the economy was going to prosper in the coming two years, then the Legislature would have spent that money. Duh. If nothing else, they would have invested in needed infrastructure — bridges, schools, etc — or put some into a rainy day fund in case, oh for example, the unregulated "free" financial markets collapsed and nearly destroyed the American economy.
So when you think about "your" kicker check, remember this: the money you are demanding does not belong to you. If you pay too much in taxes, you get that back when you file your returns in April. That is the only "excess" to which you are entitled. When you get a kicker check, you are getting money earned by other taxpayers who did better than expected over the past two years.
Your kicker is other people's money.
Shame on you for claiming that money as your right.
T.A. Barnhart writes regularly at tabarnhart.net where he's now doing a lot of videojournalism. And he's on Facebook a lot!