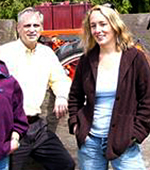 Over at the O, columnist Anna Griffin reveals that New Seasons co-founder Eileen Brady is considering a run for Mayor of Portland.
New Seasons co-founder Eileen Brady said today that she's considering a run for mayor next year and in the process of talking to friends and colleagues about whether to run and what her campaign might look like. "A lot of people have asked me to think about it," she said Tuesday afternoon. "I'm out listening to community members right now, so I don't have much to say besides, yes, I'm looking at it."
Back in 2008, she met with national Democratic leaders as part of her process of considering a run for the U.S. Senate seat held then by Gordon Smith.
Griffin also shares her take on the emerging field of candidates:
Brady, 49, would be a fascinating candidate, and a serious opponent for [Mayor Sam] Adams, Charlie Hales, a former city commissioner who has all but announced his candidacy, or Steve Novick, the political activist and former U.S. Senate candidate said to be considering a run.

A proud Democrat, she's a nationally renowned expert on sustainability. But she would also bring a business owner's perspective to the race, along with the kind of sharp tongue a challenge to Adams, who isn't afraid to play rhetorical hardball, will require. And being a woman certainly wouldn't hurt her chances in Portland, or among a field that seems likely to be dominated by men.