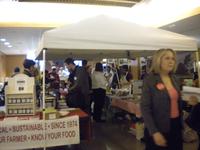 I have a secret to share. Despite moving to Oregon over a decade ago, and being involved in local politics for roughly half that time, I had never made a trip to Salem and visited the state's Capitol. Politics isn't a "spectator sport" and yet I followed the state's political happenings through newspapers, blogs, and the occasional Portland rally. All that changed when I traveled to Salem as a member of the Family Farmer Day of Action.
Organized by the Friends of Family Farmers, the purpose of this day of action was to encourage lawmakers to pass various farm and food-related legislation under consideration in the current session. The number of bills that address both the nutritional and economic benefits of small family farms are unlike any legislative session in recent memory. It is for this reason that I signed on to attend this day of action, breaking my "Salem activist" cherry in the process.
A morning breakfast also served as a debrief session to prepare for the day's actions. The tables at the session were arranged by state Senate district so that attendees from the same district could team together, having strength in numbers when visiting their Senators later that day. My carpool partner turned out to be the only other one present from Senate District 43, covering Northeast Portland, represented by Jackie Dingfelder, who as Chair of the Senate Environment Committee will have the initial review of any farm and food-related bills passed out of the House.
Looking at the more packed tables throughout the room, it was clear that a healthy representation of farmers from the state's rural districts were in Salem. While others from Portland were certainly in attendance, their presence was sparse compared to their rural colleagues. Clearly, the two of us from northeast Portland were representing the "friends" side of the Friends of Family Farmers equation. At the same time, our state Senator happened to chair the committee that will ultimately influence the final shape of these pieces of legislation.
Prior to the meeting at Senator Dingfelder's office, however, was the opportunity to participate in other activities arranged by the Friends of Family Farmers. A number of rally-goers made their way to the House Gallery, where we were acknowledged from the floor of the House. A farmers market was set up in the Capitol's Galleria, including a number of booths manned by farmers offering samples of the goods they grow or produce, including artisan cheese, chili made with pasture-raised beef, as well as the opportunity to discuss potential CSA shares with state employees who passed by.
Friends of Family Farmers had arranged the meeting with Senator Dingfelder at 1 pm. However, the Senate Environment and Natural Resources Committee was holding a hearing on SB 695, a bill that would outlaw bisphenol-A in baby bottles. Any legislation that would protect the development of the state's children is worthy of support, so it was fine that the Senator was unable to meet with us. A legislative aide met with us instead to discuss the farm and food-related bills in the current session. A top priority we wanted the Senator to immediately consider is HB 2336, the "Pickle Bill" that allows small farmers and producers to be their own regulators, which passed the House and is sitting on Dingfelder's desk as committee chair.
Although I had never been in Salem before, I did have some prior experience discussing policies with elected officials and their staffers. On a past visit to Washington, D.C., I met with House Agricultural Committee staffers regarding the Farm Bill, and as an intern in Earl Blumenauer's district office I sat in on meetings while various groups discussed their concerns. A lesson I learned through these experiences is that messaging is key when speaking with elected officials. The benefits of these bills could certainly include addressing Oregon's 27% child obesity rate or the positive land conservation efforts provided by family farmers. These messages, however, would be tone-deaf to the current economic climate Salem faces.
The most appropriate message to stress instead is that these bills are, ultimately, job creation bills that do not provide an extensive economic burden on the state's taxpayers. The "Pickle Bill" pretty much codifies what is occurring throughout the state's farmers markets on a regular basis. HB 2222, the Family Farms Bill, waives property assessments for small farms, from the current three year requirement of farm-related property investment to just one year, allowing new farmers immediate financial relief as they pursue their career. HB 2872, the Small Poultry Bill, waives licenses for producers who slaughter less than one thousand birds, streamlining the food production process at a smaller level. HB 2800, the Farm to School bill, does appropriate $2 million to reimburse school lunches produced with Oregon food, and while that amount might appear prohibitive during a budget crisis, it is also an amount that would be returned to Oregon's farmers and rural communities. Even HBs 2975 and 2976, twin bills proposed to increase funding of farm-direct nutrition programs for low-income seniors and WIC (women, infant, children) programs, would result in more money in the hands of Oregon's farmers. The job creation potential of these pieces of legislation is undeniable, a concept stressed during the discussion with Senator Dingfelder's staffer who responded favorably to the points raised.
For the first time in my life, I was a lobbyist. Surprisingly, once the discussion was over, I didn't feel like I needed to take a shower or anything. Despite their poor reputation, and the fact that the term "lobbyists" is synonymous with political corruption, the reality is everybody needs representation at some point in the political process. Children, schools, family farmers… they all stand to benefit from representation, even by citizen lobbyists such as myself. But does this mean that once was enough, and would a taste for lobbying influence a potential career direction? It's doubtful. When I asked my carpool partner on the way back to Portland if she would want to pursue a career as a registered lobbyist, she replied by simply saying, "I don't think so." Despite my day of being more involved in the political process than usual, I would have to concur. I don't think lobbying is really my thing. Instead, I think I'll stick with blogging.