With cash flow as vital as it is to our industry, it only takes one instance to hurt a company," said Maurice Rahming, president of Portland-based subcontractor O'Neill Electric.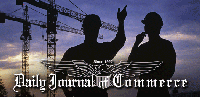 "Civil war is breaking out in Oregon's construction industry"....
That's from the Daily Journal of Commerce last week. They were writing about a related bill on retainage, but it's all part of the Oregon Senate Democrats effort to make sure small business contractors get paid on time.
Prompt payment keeps living-wages flowing. But general contractors who game the system and drag out payments to their subs are putting these subs' employees out of work.
SB 890 on prompt payment is scheduled to move out of my small business protection committee to the Senate floor on Monday.
The fight to pass SB 890 and the retainage-modification bill SB 657 is turning out to be quite a battle with NECA (union electricians), the Independent Electrical Contractors (nonunion), the Associated Building Contractors (nonunion), the union Building Trades Council and the National Association of Minority Contractors on one side vs. the Associated General Contractors (AGC) in opposition...
From Nick Bjork's story in the Daily Journal of Commerce on SB 890 (sub. req'd):
Sen. Chip Shields, D-Portland, is promoting SB 890, which would require general contractors to pay subcontractors in a timely fashion and prevent repeat offenders from working on future public projects.

"Is it much to ask in this great state of ours for people to pay their bills on time?" Shields said earlier this week during a hearing in front of the Senate general government, consumer and small business protection committee. "I don't believe it is."

Over the past few years, subcontractors have noticed that a small number of general contractors have been using a loophole to defer payments.

Basically, subcontractors are paid for every 30 days of work between 30 to 60 days after completion. During this time, a general contractor sometimes changes its process for submitting pay paperwork without telling the subcontractor. Once that payment period has elapsed, the general contractor can withhold payment because paperwork wasn't submitted correctly.

Under state law, general contractors then gain an extra 120 days to pay. Some of these delays result in lawsuits in which the general contractor argues that it doesn't owe any money at all.

"The large majority of (general contractors) would never do this, but there are a few bad apples out there, and with cash flow as vital as it is to our industry, it only takes one instance to hurt a company," said Maurice Rahming, president of Portland-based subcontractor O'Neill Electric.

Rahming added that banks and bonding agents consider the avoided payments as unreceivables, which hurts not only a company's cash flow, but also its business relationships.

Even people who testified against SB 890 at the hearing acknowledged that general contractors should be required to make payments in a timely manner. But John Rakowitz, a spokesman for the Associated General Contractors' Oregon-Columbia chapter, said the issue should not be handled at the legislative level.
More after the jump.
"This puts state agencies in the business of policing the relationship between (general contractors) and (subcontractors)," he said. "And given the legal and technical portions of this bill … we just don't believe it's been vetted out with the (perspectives) of the entire industry."

Rakowitz also noted that certain types of firms profit in boom times, while others perform better when business is lean. The AGC doesn't like to support legislation being pitched in reaction to economic conditions, he said.

"It seems like we could solve this within the industry," he said.

But Shields disagreed.

"This bill has nothing to do with advantages to specific firms; it's simply about the fair use of public dollars," he said.

The bill would require a general contractor to pay a subcontractor within 30 days after it submitted a request for payment. If a general contractor wanted to change the contract, or the process of submitting paperwork, it would be required to give the subcontractor 45 days notice.

A general contractor's first violation of the rule would result in a warning, which would be expunged from the record if the firm were to avoid another violation in the next five years. A second violation would result in the contractor being removed from the state's preferred contractor list. A third violation would result in a one-year disbarment from work on public projects.

Rakowitz said a number of questions would need to be answered before his organization would support a bill. He wants to know if the bill would take into account instances when general contractors aren't paid, or expected price changes when general contractors provide their own materials.

Shields, meanwhile, is continuing to push the legislation.

"We've got some work to do on this; there is no doubt about that," he said. "But I believe in this and think it's exactly what this committee should be doing. I want to move it to session within the next few weeks."

An earlier version of this story erroneously reported that Columbia Wire & Iron Works went out of business in part because of delays in general contractor payment. Columbia Wire & Iron Works is still operating and currently has a staff of about 35.