On the heels of a weekend news report that Intel is taxing Hillsboro and Beaverton schools with the influx of about 400 Israeli children because of an Intel four-month training program for their parents, Intel executives showed up at a business association meeting on Tuesday to complain about the inability of Oregon's Higher-Education system to produce enough skilled engineers.
Add to that Intel's refusal to pay its fair share of Oregon's income taxes and what you get is a message that doesn't compute.
According to The Oregonian's Mike Rogoway, on Tuesday Intel VP Renee James bemoaned "that the state's education system isn't generating enough skilled workers and that Oregon isn't doing enough to support entrepreneurship." She made her comments during the Portland Business Alliance's (PBA) annual meeting.
Rogoway turned to Intel's Northwest Region Corporate Affairs Manager Jill Eiland, who also serves on the State Board of Higher Education, the PBA and the Oregon Business Association. Eiland said, "It's no secret that the state of Oregon has disinvested in Higher-Ed for the last 25 years."
True. This graph from the OUS 2010 Fact Book makes the disinvestment abundantly clear (click image to enlarge):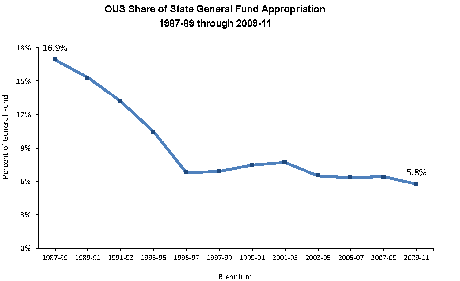 But according to Rogoway, Eiland just wants Higher-Ed to "run their institutions more like businesses" and "didn't have a specific prescription for reversing that" disinvestment.
Really? Why can't Eiland acknowledge that the cure for disinvestment is, well, investment? That should be easy for a member of the Higher-Ed board.
And where should that investment come from?
Not students. What's kept Higher-Ed barely afloat while the state has disinvested has been increased spending by students. The OUS 2010 Fact Book shows that total revenue per student has stayed fairly flat when you factor in inflation, and that over time students have picked up a larger share of the costs through higher tuition and fees (click image to enlarge):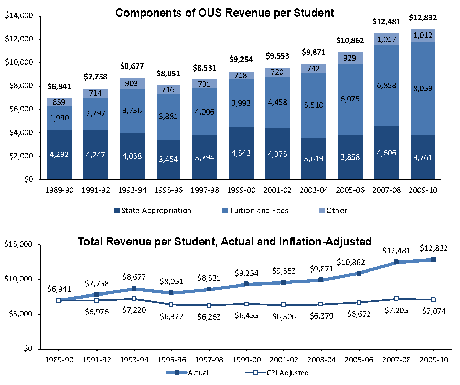 If not students, then shouldn't the Legislature be looking to corporations who used to pay significant taxes but now pay just a pittance?
In 1997, Intel boasted that it paid $54 million a year in corporate income taxes on $20.8 billion in revenue in 1996.
Since 2003, when Intel last disclosed its corporate income tax payments ($50.9 million a year on average from 1998 to 2001), Intel only boasts about the income taxes its employees pay, not its own corporate income taxes.
By 2010, after another decade of disinvestment in Higher-Ed, Intel probably paid next to nothing in corporate income taxes on its $43.6 billion in revenue. As Rogoway noted, Oregon's tax system now "exempts Intel . . . from nearly all state corporate income taxes." Intel's lobbying the legislature for tax cuts has trumped their complaints about better investments in higher education.
Sadly, Intel's transformation into a just-a-pittance taxpayer is not unusual. While in the early 1970s the corporate income tax accounted for 18.5 percent of Oregon's income taxes, that share is projected to be only 6.9 percent in 2011-13.
Indeed, Oregon is now projected to get more revenue from state-sponsored gambling than from our corporate income tax. That's not something the Oregon Legislature ought to be proud of.
It doesn't take all that much computing capacity to figure out that as corporations like Intel shed their tax responsibilities, it becomes harder for Oregon's Legislature to invest in Higher-Education. And it becomes harder for the likes of Intel to find the well-educated and -trained workers it needs.
So rather than point fingers and complain about Oregon's disinvestment in Higher Ed, Intel should direct its lobbyists to ask the legislature to restore taxes on corporate profits so that the state can invest more in its colleges and universities.
But whether or not Intel changes its tune, the Oregon legislature certainly should. Lawmakers should reform the corporate income tax so that it once again brings in meaningful revenue from profitable corporations such as Intel. That would be in the best interest not just of Oregonians, but also Intel and other corporations that benefit from a good Higher Ed system.
---

Chuck Sheketoff is the executive director of the Oregon Center for Public Policy. You can sign up to receive email notification of OCPP materials at www.ocpp.org.