If we want to increase ridership on public transit, we must consider the barriers to using it.
My first blog on Blue Oregon back in July of last year was an issue about accessibility and accommodation of parents and guardians riding with children. I had first shared this idea with the founders of the MotherPAC and they had encouraged me to followup on this issue as they, along with mothers from Urbanmamas.com, had been in talks with TriMet on this very issue a year or so back.
I thought Blue Oregon was the perfect place to have this conversation and was delighted when Josh Collins of TriMet was thoughtful enough to post a comment on my post about TriMet's policy. An e-mail exchange and a meeting at TriMet resulted in a TriMet-led Space Management Summit where Lisa Frack (MotherPAC, Family Forward Oregon) and I were able to meet with other concerned riders about space management issues.
It became clear early on in the meeting after a presentation by TriMet that the group of riders who ride with children were not a part of the official planning or stakeholder engagement process. Advocates for seniors and disabled passengers, a cycling advocate and an advocate for riders who speak English as a second language have official roles as part of TriMet's community committee structure, however no such role exists for a parent or guardian riding with kids advocate. We also discovered that TriMet's rider survey results did not include statistics about parents or guardians traveling with young kids. Nor did any of their capacity planning or train design drawings demonstrate the need for space for parents/guardians traveling with kids -- in particular the concept of what to do with strollers (a necessary traveling tool for any long-term trip with an infant or small toddler) was not included in these drawings.
In addition, the campaign to "Respect the Ride" did not include any rider instruction on how to respectfully ride with young kids or to be a helpful passenger to a rider with young kids. There also was no other signage on the bus or MAX to suggest that there may be riders with young kids traveling and how to best share space on TriMet between all riders. And knowing how to share the space is particularly important, because of the necessary and critical accommodations and legally-protected space for disabled and senior passengers, who should not have to be put in a position to ask for this space, but are often blocked from access by riders (including parents traveling with young kids) who have no other place to sit with their stroller, luggage or otherwise bulky or irregular "cargo".
I say all this because I was impressed with how TriMet included us in this meeting and brought different rider groups together. It wasn't a perfect meeting and we didn't all agree on everything, but it was clear in the room that there did need to be a way for parents and guardians riding with kids to know where they were allowed to use additional space on MAX and the bus. And TriMet came back with a list of improvements they were planning to implement to make riding on TriMet a better experience for parents and guardians with young children -- work that is still very much in progress.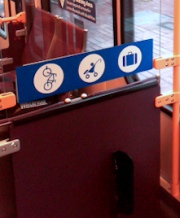 Credit J. Maus and Mitch L and Bike Portland.org for the photos
One of our early suggestions on the MAX side was to have a multi-use sticker for the bike hanger area to make sure that it was clear that riders with various cargo could use this area. Yesterday on BikePortland.org, a blog post showed early evidence that these new multi-use stickers were indeed being placed on MAX as TriMet had promised. The original sticker as shown, implies that bikes had priority to this area. Now, it more adequately represents that this is a multi-use area as space allows.
I know that cycling advocates at BikePortland.org are concerned about the impact of this new sticker to the cycling commuting community and I think their concerns are valid -- I do think the overall message of this new sticker is that we all need to share our places on the road. A cyclist sharing the space on MAX with a parent or guardian with a young infant one day (there is room for a bike to hang and have a parent or guardian with a stroller stand there). A car sharing the road with a cyclist by observing bike lanes and making safe right-hand turns another day. A parent or guardian with a stroller moving for a senior or disabled passenger without being asked. All of us being more attentive to pedestrians.
To me, it's about the fact that we all have places to go, things we feel are necessary to bring (whether it be a bike, a stroller, luggage for the airport or a basket of laundry). We should honor the fact that people with larger or irregular cargo have chosen to use public transit rather than put one more car on the road and make sure they are welcomed and have a place on our system. And of course, we should all consider our fellow passengers when bringing along these items. Space on the bus and MAX is limited and certain times in the day are specifically challenging. We all need to continue to advocate for TriMet to include different rider groups in their capacity and design planning processes so that our transit system is not only well-used but also accessible to senior and disabled passengers, cyclists, and parents and guardians with young children and others. If we want to increase ridership on public transit, we must consider the barriers to using it.