"So it raises the question of whether the Oregonian is purposefully trying to pass off the front group as independent in order to mislead readers." - Scott Moore, Our Oregon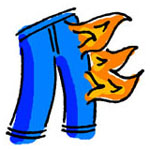 On Friday, the Oregonian launched a new venture in journalism called the Oregon News Network. The idea is a good one - combine the creativity and in-depth coverage of niche bloggers and independent journalists with the audience reach of a major news site. It's a win-win all around. OregonLive.com and its readers get more quality content, and the smaller sites get access to a much bigger audience (and $2500.)
The guidelines for inclusion were pretty straightforward. You have to do daily original reporting; opinion blogs (like this one) are not invited. And "organs for institutions such as government agencies, political parties, non-profits" are specifically excluded.
Many of the sites included are fantastic. BikePortland, Neighborhood Notes, the Skanner, the Lund Report and others are great.
But one addition raised eyebrows all over the place: Oregon Capitol News. OCN clearly identifies itself as "a project of the Cascade Policy Institute". And while their self-proclaimed "independence" as journalists is a matter of some dispute, there's no doubt: they're a house organ for a nonprofit organization.
Over at the Sockeye, Scott Moore is calling foul:
By definition, that makes the Oregonian's assertion that it's an "independent" news outlet verifiably false. The newspaper has printed guest opinions from CPI's Steve Buckstein often enough that it should know fully well who he and his organization are, so it raises the question of whether the Oregonian is purposefully trying to pass off the front group as independent in order to mislead readers. ...

So, given the more-than-convenient match between the right-wing politics of the Oregonian's new publisher and the so-called "independent" analysis of the Oregon Capitol News, we deem this statement Pants on Fire.
I suspect that the ONN project is actually a minor project buried deep in the news room somewhere. After all, we're talking about $17,500 in expenses -- and they haven't even bothered to integrate the project into their backend technology. (Each post looks hand-produced, and is authored by "Oregonian News Network" instead of the original author.) Heck, the BlueOregon news feed is a much more robust little news aggregator.
As a result, I'm inclined to give the Oregonian the benefit of the doubt. I'm hoping that they take this opportunity to review the News Network guidelines at a senior level - and jettison Oregon Capitol News as a partner. It's quite obviously a violation of their own rules.