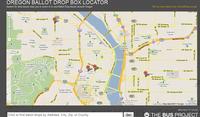 I generally leave the cool widget-y type stuff to Kari because well, let's face it, I'm just not a bells and whistles kind of woman.
But we're getting down to the voting wire. And while vote by mail is easy-peasy, there is the matter of having to scrounge up the postage stamp to send it out. If you're anything like me, you can never find them around the house. I think I'm going to get them the very next time I go to the grocery store only to walk out with my milk and eggs, blissfully heading home in my continued postage-stamp-free existence.
Thus necessity has made the Bus Project the mother of invention. They've created an awesome Ballot Drop Box Locator map whose purpose is to aid the postage-stamp challenged and the procrastinators.
It's awesome. Check it out.