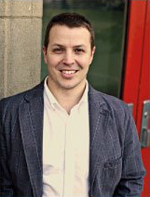 By Matt Morton of Portland, Oregon. Matt is a candidate for Portland school board (zone 2). Election day is Tuesday, May 17.
We talk a lot about livability in Portland. We talk about transit, and we talk about small businesses, but we don't talk enough about public education. I believe public education is intimately tied to the vitality of our community.
My name is Matt Morton, and I'm running for the School Board because Portland Public Schools are falling far short of what a livable city's schools should be. Too many of our kids are failing to meet even the most basic academic standards, and many are graduating unprepared to take full advantage of the opportunities that await them. Our kids deserve better.
As a member of the Portland School Board, I plan to help every kid in every school get an excellent public education. As Deputy Director of the National Indian Child Welfare Association--a position in which I oversee a staff of twenty-four and a multi-million dollar budget--I have developed the tools I need to be an effective school board member. Meaningful engagement, thoughtful action, and responsible stewardship of our resources will be my guiding values as we work together to improve educational achievement in our schools.
In closing the educational achievement gap, we must look to community partners for support and guidance. As board chair of the Native American Youth and Family Center, I helped start an alternative school for Portland-area Native students. About 31% of Native students graduate Portland Public Schools; our school graduates 88%. Organizations like this could help advise and guide the district to better serve every kid in every school.
My wife and I live with our two-year-old son in North Portland. We know the students attending our neighborhood schools, Jefferson and Humboldt, have tremendous potential, but they need greater support from the district. If elected, I will work to ensure that these students, and all students throughout the district, receive the educational opportunities and support they deserve.
I'm proud to live in Portland. We're a community filled with dedicated and passionate people working together to create a better future for our city. Educating our kids is the keystone to keeping our community vibrant and livable.
If you have any questions for me, I would love to answer them. I can be reached by email at [email protected], or by phone at (971) 208-3340. You can also check out my website at mattmorton.info.
I ask for your vote on or before May 17.
(Editor's note: Other candidates for Portland school board are invited to submit "Why I'm running" guest columns.)