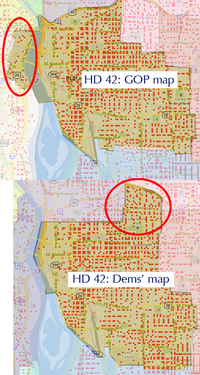 The initial redistricting maps released by Ds & Rs in the Legislature week have led to charges and counter-charges of political hijinks on both sides. Who is being faithful to the law and who is trying to gerrymander depends on your side of the aisle, of course; this is politics, after all. Possibly the Leg will find a set of compromises that will let them complete the redistricting process and avoid the Secretary of State's office having to finish the job. We'll see. I'm not hopeful; both sides have political goals they are likely to fight to maintain. Here's one.
(Please note. This is not a well-researched theory. It's hunchy. Pull from my nether regions. That doesn't mean it may not be correct.)
HD 42 ("The Fightin' 42nd") is my district, and my state Rep is Jules Bailey. Curiously, the maps drawn by his own party have him living in Rep Ben Cannon's district. He'll either need that redrawn or he'll have to move — and I'm inclined to think the former is more likely. I don't think his colleagues were trying to redistrict him out of the Legislature!
What's more striking to me is the Republican map. Despite the state Constitution's requirement that districts be drawn to include "communities of interest", they've drawn a map that does nothing of the sort. As someone who lives in the heart of HD 42 (SE 29th between Division & Powell), I cannot fathom how anyone would think downtown Portland, Old Town & the eastern portion of the Pearl have anything in common with the People's Republic of SE Portland. Because, of course, they do not. They are not "communities of interest".
There's also the little issue of the river which forms one of the "natural" boundaries that are also to be part of the districting process.
The Dems' map keeps the district in one piece, adding a chunk of the Laurelhurst area. That neighborhood is a bit more-upscale than much of the rest of the district, but not enough to make it a foreign land. Given that HD 42 has to add more people (the population is short of the required number), that little chunk to the northeast makes as much sense as anything.
And a lot more sense than the Rs' odd map.
Why would they do that? Why jump the river and toss in, almost randomly, a portion of downtown Portland that has little in common with the rest of the district?
It's about the hatin', kids, and in particular, the hating-on-Portland directed as us by those in the eastern part of the county and outside the Willamette Valley.
Earlier in the session, on the floor of the House, Rep Matt Wand (himself likely to see some significant redistricting as east county has two very different versions drawn up by the two parties) stated his great disappointment that the Mount Hood Freeway was not developed. Yes, that Mount Hood Freeway, the one that would have obliterated much of eastern Portland along Powell Blvd. The Mount Hood Freeway that brought Neil Goldschmidt to prominence, that jump-started citizen activism in Portland, and remains memorialized by an I5 off-ramp stub that points at what might have been. This is the Mount Hood Freeway Matt Wand laments not having been built.
A few days after his words on the floor, I asked him if I had heard him correctly, and he confirmed that I had. He believes the freeway would have helped Troutdale survive economic difficulties over the years. But as we talked about this, and I spoke of the terrible damage it would have done in Portland, he made it clear he did not give a damn. He spoke instead about the gentrification of Portland and how "we" were driving poor people out of the city, dumping them on east county. Granted, this is happening, but for Wand, not only is it a purposeful process — a massive plot to keep Portland rich and white — but no one, and I mean absolutely no one — in Portland gives a damn about east county. If you live in any part of Portland, you basically hate Troutdale and everything east of — name your dividing roadway. At some point, you hate them what lives east of you.
And the feeling, at least from those like Wand, is mutual.
So the point of adding a chunk of downtown to HD 42? So the Republicans can, as they attack "Portland", point at "representatives like Jules Bailey, with his socialists on the east side of the river and rich Pearl District yuppies on the west". You doubt they won't? Rep Patrick Sheehan, also on the floor of the House, encouraged a No vote on the $5 Sellwood Bridge repair fee because it would help Portland. Pure and simple: if it helps Portland, it's bad and wrong.
Obviously, we in Portland have a lot to answer for. We don't care properly for those who need our help. We do too little for the homeless, the low income and for ethnic minorities. We are pushing many social problems to the east; I don't think there's a deliberate attempt to do so, but it's happening nonetheless. And as Rep Jefferson Smith points out, of federal money that is meant to help the entire city, almost none makes it east of SE 82nd. We need to address these issues better. Portland needs to become a better and stronger partner with east county, sharing more of the burden, especially for those issues with roots in the city.
But those outside of Portland have to get over themselves and drop the victim act. Whining about big, bad Portland does them no good. Working on the basis of political anger and hate fixes nothing. Using the redistricting process to serve hard core political ends rather than the public good is shameful — and it won't stand. If the Rs try to play this game, they'll have the great pleasure of watching Secretary of State Kate Brown — who represented much the same area as Jules, the former HD 13 — draw up the final map.
Then they'll really have something to whine about.