For political map nerds, yesterday was a big day. Opening bids were made by the Democrats and the Republicans engaged in the redistricting process.
In this post, I'll take a look at the proposed congressional maps.
Remember that these maps are opening bids in a negotiation, so expect them to represent their authors' greatest dreams and desires (and probably not a few bluffs and misdirections.) Also, it's entirely plausible that we'll see maps from other, outside interested parties. (Already, the DPO put out its own legislative map for folks to examine.)
So, for starters, the big picture: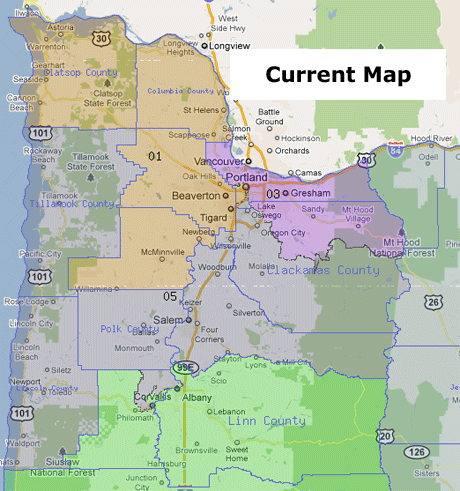 (Click to zoom and view side-by-side.)
Apologies to folks in Central, Eastern and Southern Oregon, but this tight crop was the best way to see the detail. Central and Eastern Oregon are, of course, in Greg Walden's OR-2. Down in Josephine County, there's some variation on the way the border between OR-2 and OR-4 is drawn (but it's an area with such small population, it looks like everyone just used that area to balance population numbers between those two districts.)

As you can see, the Republican goal is to pack all of Multnomah County into Earl Blumenauer's OR-3 - thus making David Wu's OR-1 and Kurt Schrader's OR-5 a little less Democratic. Relatively, the Democrats have done more to keep things close to the way they are now in Multnomah County - with the Willamette River and Powell Boulevard dividing the three districts. Clearly, the Republican map is the radical shift here (despite their whining to the contrary.)
The way that the district map is now actually makes some good sense in terms of "communities of interest". Right now, the Dunthorpe/Riverdale area joins the Wilson H.S. part of SW Portland with Lake Oswego to the south in OR-5. The part of Southwest that's north of I-5 (Multnomah and the west hills) joins Garden Home, West Slope, and Raleigh Hills - as well as downtown and Northwest in OR-1. And the NW industrial area joins North Portland in OR-3.
Under the Democratic plan, the South Waterfront development shifts from OR-5 to OR-1 - as it should, since that area is now clearly part of the downtown milieu. And while Milwaukie makes good sense shifting into OR-5 to join Oregon City and Gladstone, the addition of Sellwood, Eastmoreland, Westmoreland, and the Reed College area to OR-5 admittedly seems a bit out of place (though it does put Reed and Lewis & Clark in the same district.)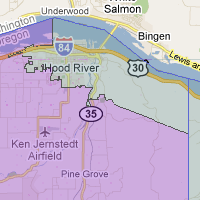 One bit of sure-fire controversy about the Democratic map is the way in which it splits Hood River county. Personally, if it were up to me, I'd have put all of Hood River into OR-3. I think Hood River has more in common culturally with the Portland metro area than it does Eastern Oregon. But that would mean putting two incumbent members of Congress in the same district, something that the courts have historically preferred to avoid.
There's much, much more to talk about on these congressional maps, but that's enough for now from me. What do you see on these maps? Where might the negotiations lead? The map PDFs from the legislature are generally a mess to work with.
Instead, I highly recommend taking a look at the the public mapping tool from Moonshadow Mobile. That's an Oregon company (Eugene City Councilor Mike Clark is a VP there) that layers a redistricting tool over the intuitive Google Maps interface. (Note that you can't edit anything there, but you can zoom in and out. Also, full disclosure: that's the company that provided redistricting tools to the Republicans, but whatever. It's a nice map tool. Oh, and "Map 1" is Democrats and "Map 2" is Republicans. Enjoy.)
Next up, I'll be digging in to the proposed legislative maps - but with 60 districts, well, there's a lot to think about. Stay tuned.