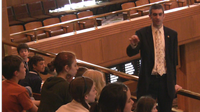 Here is a list of the State Representatives who have not signed the discharge petition for SB 695:
Democrats
HD 10 Jean Cowan 503.986.1410
HD 12 Terry Beyer 503.986.1412
HD 21 Brian Clem 503.986.1421
HD 48 Mike Schaufler 503.986.1448
HD 50 Greg Matthews 503.986.1450
HD 09 Arnie Roblan 503.986.1409
Republicans
NO Republican has signed yet; that includes bill co-sponsor Greg Smith (503.986.1457)
If you want your representative to sign the petition, call them and let them know. The deadline to gather 31 signatures is 5 pm Wednesday (that's tomorrow).
Background
SB 695 is being blocked by GOP leadership in the House for one simple reason: if it made it to the floor of the House for an up-or-down vote, it would pass. Rep Cannon, Co-chair of the committee where the bill is being blocked (Energy, Environment and Water) is trying to get the bill to the floor of the House for an up-or-down vote; 31 signatures on the discharge petition, and the bill is moved from the committee to the full House.
This bill will ban the use of the toxic chemical BPA in baby bottles, sippy cups and infant formula containers. Many retailers have dropped such products, but they are still available in Oregon. This bill will protect all Oregon families from use of these dangerous products.
It is possible that a representative is hesitant to sign a petition and circumvent the committee process, even if they agree with the bill. That is not a good reason to not sign the petition. The bill is being blocked for political, not policy, reasons.
For more information on this bill and the importance of this discharge petition, please see my previous post.