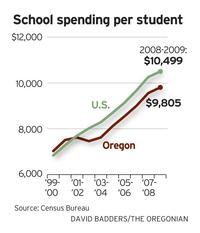 The O's Betsy Hammond has done some useful and insightful research, comparing school spending in Oregon with the national average.
It turns out, despite all the political wrangling in recent years, that we've been predictably spending 7% below the national average - every year since 2002-2003. Before that time, we were just slightly above average.
She also cites economist John Tapogna, who notes that prospects for additional money aren't good:
The main reason Oregon spends less is that Oregonians earn less than the national average -- so they have less to spend. As a whole, Oregonians consistently contribute 4 percent of their collective income to public schools, he said.

Oregon's economy and per-capita income would have to grow faster than the nation's to make it natural for Oregonians to increase their spending on schools faster than the nation, he said.
So, what could help with regard to funding?
A jolt to the Oregon economy that delivers a big income boost also would help, he said. Another possibility, he said, would be "we get really deliberate and strategic with public policy and slow down the growth (in costs) of Medicaid and corrections."
It's that last word that's so critical: corrections. Oregon is the only state in the nation that spends more on prisons than we do on higher education. That's ridiculous.
We have to invest in education. That's the long-term solution to our economic - and criminal justice - challenges.