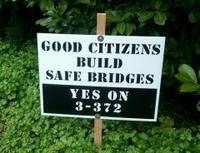 Clackamas County residents are currently voting on the future of the Sellwood Bridge. Will they decide to fund a safer bridge, creating hundreds of construction jobs in the process? Or will the Tea Party win in its petty politics, retaining an unsafe bridge over five bucks?
The Sellwood Bridge is the most structurally unsafe bridge in the region, rated 2 on a scale of zero to 100. Buses and trucks have been banned from the bridge due to weight limits. And for the one in four Oregonians who can't drive, getting across the bridge is ridiculous.
Sadly, we recall Minnesota's I-35W highway bridge, which was structurally unsound – it was rated 50 of 100 – when it collapsed. We shouldn't repeat the same tragic mistake. We shouldn't take that chance with the safety of our families.
Over 30,000 people drive over the bridge every day. Seventy percent of all traffic on the Sellwood begins or ends in Clackamas County. While the project is a reminder of the compelling case for a regional bridge authority, we don't yet have one. So we're piecing together the financing, and the Clackamas contribution is 7% of the total.
If the Sellwood isn't replaced, engineers project it will need to be shut down four to nine years from now. And there's no other crossing for miles up and down the Willamette River, in a heavily populated portion of the metro area. That would mean serious increases in commute times for Clackamas residents and businesses.
Not surprisingly, business groups across Clackamas support the measure, including the North Clackamas Chamber of Commerce, the Clackamas County Economic Development Commission and the Clackamas County Business Alliance.
The Tea Partiers – and Clackamas County Republican Party – are off on their own, whipping themselves into a frenzy, insisting "it's not just $5." That flies in the face of facts.
Ironically, the $5 bill features Abe Lincoln - the oft-lauded symbol of the Republican Party. Tea Partiers, it is worth a fiver to keep our families and community safe? What would Abe do?
Watch a tour of the bridge's structural problems with former Multnomah County Chair Ted Wheeler.