Oregon's millionaires are expected to mushroom this decade, which makes one wonder why some lawmakers feel compelled to shower them with tax subsidies in the form of lower tax rates on their investment income.
Millionaire households in Oregon will almost triple in number by 2020, according to a new study by Deloitte LLP's global financial consulting group, the Center for Financial Services. Deloitte projects that Oregon will have the third highest growth in millionaire households from 2010 through 2020 among all the states. Deloitte published its study (PDF) to help "wealth managers" plan their marketing to the rich.
Deloitte estimates that in 2020 about 20.6 million American millionaires will hold $87 trillion in wealth ($4.2 million on average), up from the 10.5 million American millionaires who hold $39 trillion in wealth ($3.7 million on average) in 2011. The Deloitte wealth totals include financial assets such as stocks, bonds, and other investments, and nonfinancial assets such primary residences and consumer durables.
Oregon is expected to have the third largest growth in millionaire households from 2010 to 2020. Deloitte estimates that Oregon will see the number of millionaire households climb from 112,000 in 2010 to 296,000 in 2020, a 164 percent increase.
Among all the states and the District of Columbia, Oregon will rank 24th in the number of millionaire households in 2020, up from 25th in 2010.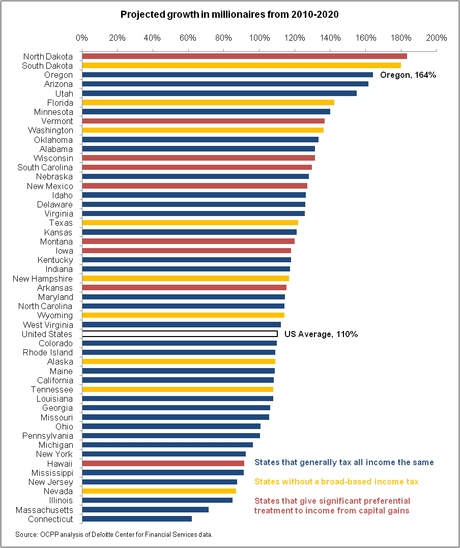 Only North Dakota and South Dakota will see a greater growth rate in millionaire households than Oregon, but they will still have relatively very few millionaire households. South Dakota will hold steady at 49th in the rank of numbers of millionaire households in both 2010 and 2020, while North Dakota will climb from 51st in 2010 to 50th in 2020 in numbers of millionaire households.
According to Deloitte, Oregon's millionaire growth rate will outpace all but one state (South Dakota) with no broad-based income tax. Oregon growth rate is expected to be 21 percent greater than Washington's (ranked 9th) and 89 percent greater than Nevada's (ranked 47th), for example. And Oregon's growth rate will exceed that of all but one state (North Dakota) that give significant preferential treatment to wealthy speculators with lower tax rates on income from capital gains. Oregon's growth rate is expected to be 25 percent greater than Wisconsin's (ranked 12th) and 29 percent greater than New Mexico's (ranked 15th), for example.
In short, the study projects that Oregon's well-to-do households will continue to do well, thank you very much, under our current tax system.
For Oregon lawmakers, the report's lesson is different than that for the "wealth managers" who are Deloitte's primary audience. Oregon lawmakers are supposed to be the people's representatives, who look to further the common good. They are the managers of the public structures — education, health care and public safety — that nurture the middle class and protect the vulnerable.
Yet right now, a number of lawmakers — Republicans and Democrats — and the Governor propose cutting the income tax on capital gains. That would hand a huge tax subsidy to millionaire households.
Like I said, with millionaire households mushrooming in Oregon, it makes one wonder why . . .
---

Chuck Sheketoff is the executive director of the Oregon Center for Public Policy. You can sign up to receive email notification of OCPP materials at www.ocpp.org.