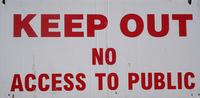 By Scott Moore of Portland, Oregon. Scott is communications director for Our Oregon.
Let's face it: Oregon voters are extremely cynical about the state legislature, and the kind of frantic horse-trading happening right now over the "education package" is exactly what makes them that way.
Despite little to no opportunity for public input, legislators are expected to vote on these either Monday or Tuesday.
The public was shut out of the process, but legislators can still do the right thing for Oregon students by voting no on the bad bills and telling their colleagues to come back with more sunshine in February.
By cutting these deals behind closed doors, and by letting Rep. Matt Wingard lead the charge on bills that will line his own pockets, legislators are playing up the worst beliefs that citizens have about the legislative process.
What's worse, Oregonians last year voted to move to annual legislative sessions as a way of increasing transparency, accountability, and public process in state government. And how are some legislators honoring that historic vote? By ramming through several education bills that will have far-reaching impacts on Oregon kids, all negotiated by a small handful of lawmakers behind closed doors with little or no public input. Thanks a lot, Salem.
Here are just a few examples of sweeping bills that are being pushed forward without the public (the first three are Wingard's pet projects):
HB 2301: Expands virtual charter schools (aka the "Matt Wingard is Getting a Fat Bonus this Year" Bill)—A similar, failed bill had testimony in February, but the current version of the bill, with significant amendments, has never been discussed in a public forum. In fact, the latest amendments to the bill weren't even posted online before the committee rushed to move it to the floor.
HB 3645: Multiple authorizers for charter schools (adamantly opposed by the Community Colleges, who can't afford the additional burden and financial responsibility of charter schools)—This has never had a public hearing. There have been 12 amendments drafted to the bill and none were ever discussed publicly.
HB 3681: Inter-District Transfers—A bill that could fundamentally reshape the face of Oregon's K-12 system, this has had a whopping 30 minutes of public testimony. None of the current amendments have been discussed in a public forum.
SB 250: Opting out of ESDs—The current version of this bill is changed from the one originally agreed to by educators, parents, and school leaders and worked on months ago in public hearings. Since March 30, 18 amendments have been drafted without a single moment afforded for public comment.
There's no need to rush through these bills in the closing days of the legislative session. There's no emergency, and no reason to panic. Because of annual sessions, there is another chance to get these bills right—with adequate public input—in the next session, which is literally just months away.
So why are some legislators in a rush to vote on these bills and keep the public in the dark? We know why Wingard wants to hurry—his package of bills will be a boon to his employer, the for-profit online charter school Connections Academy, and he'd rather not have to talk about that bit of financial self-dealing. But why are so many other legislators scrambling to prove that their biggest detractors were right all along?
All of the "education bills" will be voted on either Monday or Tuesday. Legislators should vote no on Matt Wingard's self-serving agenda (HB 2301, HB 3645, HB 3681) and no on SB 250. If they're really that important, their supporters can bring them back in February and at least pretend to care what the public thinks.
Want to send your legislator a message about these bills? Click here to send an email or call 1-800-332-2313 to be connected to them.