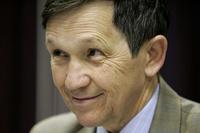 For months now, there's been a bizarre sort of soap opera going on just north of the Columbia River. It seems that Congressman Dennis Kucinich - a Democrat from Cleveland, Ohio - is considering a run for Congress from Washington state.
Why? Because Ohio is losing a congressional seat in reapportionment, and it seems that it's Kucinich's district that's going away. And apparently, he has fond memories of the time he claims to have seen a UFO at Shirley MacLaine's home in Washington state.
Well, now that Oregon has a vacant seat in Congress, could Kucinich come here to seek his political fortune?
That's what Political Wire's Taegan Goddard suggests:
Could this be the new district Rep. Dennis Kucinich (D-OH) is looking to run from?
I checked in with the state Elections Division. Could Kucinich run here? The answer is yes. The only requirements come from the U.S. Constitution, Article I, Section 2:
No Person shall be a Representative who shall not have attained to the Age of twenty five Years, and been seven Years a Citizen of the United States, and who shall not, when elected, be an Inhabitant of that State in which he shall be chosen.
That's right. As long as Dennis is a resident of Oregon on the day of the election, he could be the new Congressman from Oregon's First.
I tend to agree with David Nir of Daily Kos Elections, who calls this "an awful possibility". Kucinich is a nutball.
What do you think?
Trivia Update: The University of Minnesota Library's Eric Ostermeier notes that no one has ever accomplished what Kucinich may be about to attempt - winning back-to-back congressional elections after moving from one state to another.