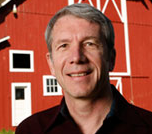 Congressman Kurt Schrader isn't making small plans.
Frustrated with the power of special interests in elections, and court decisions that blur the distinction between money and political speech (such as Citizens United), Schrader is introducing an amendment to the U.S. Constitution to give Congress and the states the ability to limit the use of money in politics.
Special interests should not have the ability to use millions to influence our elections. It's a matter of fairness. They don't want a level playing field and they will spend millions to keep it that way.

While there are some small changes Congress can make around the edges, the major problem is the Supreme Court's 1974 flawed decision in Buckley v. Valeo that money equals free speech.

That's why I have introduced an Amendment to the U.S. Constitution giving individual states and Congress the authority to limit the influence of special interests in our elections. (Read the text here.)
Of course, it's a long shot. Not only would it have to get through Congress with two-thirds majority in each chamber, but be ratified by 38 states. In my lifetime, only one amendment has successfully been added (limiting Congressional raises). Since 1789, over ten thousand amendments have been introduced, 27 of which have been adopted.
While perhaps a Sisyphean task, Schrader argues the fight must begin. His e-mail calls for folks to sign up to help.
More about the amendment from Schrader's office, with a form to sign up.
[Update, from Kari: Congressman Schrader will be on 620 KPOJ tomorrow morning at 7 a.m. to discuss.]