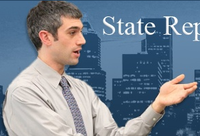 Rep. Ben Cannon (D-Portland), an impressively effective and principled state legislator, has announced he is resigning his seat September 1st to become Education Policy Advisor to Governor Kitzhaber.
From Cannon's newsletter:
Serving Oregon as a State Representative has been the greatest honor of my life. I have relished virtually every aspect of the job: helping constituents, learning from scratch about a huge range of issues, working policy bills through the Legislature, talking with voters and constituents. And the thousands of expressions of support that I have received over the past five years have rewarded me far beyond what I deserve for this work.

Before anything else, I am a teacher and a father. When I ran for the Legislature in 2006, it was because I hoped to help turn the tide on an education system that was strained to the breaking point. The unfortunate reality is that those strains are even greater today. But with his achievements in the first six months of this year, I believe Governor Kitzhaber has helped create a rare window of opportunity for turning the tide. His efforts to establish an integrated 0-20 governance system, invest resources with an eye towards outcomes, and empower educators to respond creatively and flexibly to student needs represent our best chance to change the dynamic around public education in Oregon. As his Education Policy Advisor, I will be in a position to help ensure that his initiatives are developed with wisdom and implemented for success.
What's next? Ben, in his usual thoroughness, explains:
Under Oregon law, the remainder of my term will be filled within 30 days by an appointee of the Multnomah County Commission from a list of nominees supplied by the Democratic Party. Regular primary and general elections will be held in 2012 for the next full term that begins in 2013.
This is, of course, a coveted Portland legislative seat. Expect serious competition, like the five-way primary race back when Cannon was first elected, and the crowded appointment races for what are now Sen. Shields and Rep. Frederick's seats. District 46 is south of I-84 and west of SE 92nd I-205, with the remaining lines a bit of a mess, taking in Mt. Tabor, North Tabor, Montavilla, Laurelhurst, and parts of Foster/Powell (see map).
Rep. Cannon, thank you for your service to the people of Oregon as a legislator. I'm sure your skills will continue to be put to good use in the Governor's office.
UPDATES:
Link to the map of the new district (for the 2012 races, not the appointment process), thanks JG.
Link to the Governor's statement- thanks Kari.
And coverage from the The Oregonian.