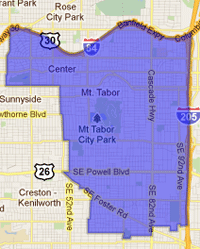 On Thursday, Rep. Ben Cannon's resignation will become official, triggering the flurry of activity that is the appointment process.
The deadline for candidates to file is September 20. (One files by filling out the "willingness to serve" form, and returning it to the DPO.)
Then, on September 21, the Democrats who are serving as precinct committee persons (PCPs) in House District 46 will select between three and five party nominees.
Then, sometime before September 30, the Multnomah County Commission will interview the candidates in a public hearing, and select one to serve as state representative. If they are unable to agree, Governor John Kitzhaber would have the sole power to select anyone to serve in the post.
The candidates must have lived within House District 46 and been a registered Democrat for six months. And while the legislature has issued new maps, those don't go into effect until next year, so the old map is what counts. (Want to geek out? Here's the statute.)
So far, there are seven candidates. In alpha order:
Elizabeth Crane
Alissa Keny-Guyer
Rob Milesnick
Walt Nichols
Trisha Parks
James Schwartz
Mary Volm
Previously, Milesnick ran for Multnomah County Commission in 2008. Volm and Nichols ran for Portland City Council in 2010. Keny-Guyer had reportedly been considering a run for County Commission in 2012.
Know any of these folks? Feel free to weigh in with your thoughts. Are you on the list? Feel free to introduce yourself. Are you an HD-46 voter? What are you hoping to see in your next state representative?